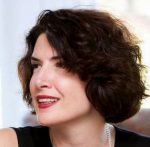 At this time of her life ("now post-menopausal and proud of it"), Meg Flather is clearly reassessing her past mistakes and triumphs along with her current and future options. In her dazzling recent (and future) show at Don't Tell Mama, Outbound Plane (directed by Lennie Watts), she not only repurposed 14 songs of wide variety and from different eras—with the considerable help of music director Tracy Stark–to tell us her story, she allowed and encouraged us in the audience to think lovingly about our own timelines and life events, both good and not so great.
Her opening number, Jerry Herman's "Open a New Window," was in more ways than one a case in point. Beautifully sung with a drastically slowed-down tempo (and a deliberately different note here and there, but no switch in lyrics), Flather fleshed out her comedic opening anecdote. In 1998 she had left a marriage, with three antiques, two cats and one portrait, to land in a walkup "litter box" of an apartment without a proper window, determined not to live alone. In drastic need of an attitude adjustment, she put ABBA's "Dancing Queen" on her boom-box and proceeded to dance around her tiny flat. She didn't replicate the dancing in this show, nor did she sing the song, but instead offered a wilder arm-waving suggestion of dance than would be good for most cabaret acts, but was entirely effective here in conveying a brushing away of past doubts and cobwebs, as well as her fear of flying solo for the first time.
The show's title song, "Outbound Plane" (Nanci Griffith, Tom Russell), similarly set up the inevitability of involuntary separation throughout our lives, with its lyric "If love won't fly on its own free will/It's gonna catch that outbound plane." Flather's caramel-warm encore, the very familiar "Cockeyed Optimist" (Rodgers & Hammerstein), in a statelier tempo than the more usual near-jingle rendition, gave us the sense of the inner strength that allowed her to successfully reposition herself in the first place. Flather's flawlessly chosen set drew on thirteen composers or teams. Only Maltby & Shire got two outings here: "Patterns" and "I'm a Little Bit Off." the titles alone self-descriptions of the moods the songs convey. Other standouts included a profoundly felt version of Joan Armatrading's "Me Myself I" and a solid offering of the most apropos "A Change in Me" (Alan Menken, Tim Rice). Throughout her set, Flather plumbed lyrics even more intensely than she had before, most especially on "Why Can't I Forget?" (Jeffrey D. Harris, Judy Barron).
Yet, "the purpose of the whole show," she said, was her new song, "Like a Sunday," which she had composed especially for it. Her mother's recent death occasioned this most thoughtful rumination on those "necessary endings and failures that in time will take you where you need to go." These lyrics also again made us aware of the limitations of our own seasons on earth, and of how we stay connected—or disconnect—while we're here.
Outbound Plane
Don't Tell Mama – July 28, August 25, December 29
Urban Stages Winter Rhythms — December 15
Category: Reviews