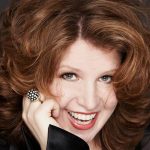 In One of the Girls – The Words and Music of Jerry Herman at Birdland, singer Klea Blackhurst leaves no doubt about her affection for the famed Broadway composer and his songs. Using a program of mostly familiar material, she takes us on a dual journey through Herman's career and through her connections to it. Her stories are consistently interesting, humorous, revealing, and touching. I could have listened to them all night.
And there's the rub. At times the songs seemed like afterthoughts or secondary illustrations and amplifications of the stories rather than personal declarations of their own. There were few surprises in the interpretations, just straight-ahead versions that at their best, as in "Put On Your Sunday Clothes" (from Hello, Dolly!) and "I Don't Want to Know" (from Dear World) were exquisite, but at other times, especially in the comic material, were oversung at the expense of the humor and story. When her musicians, The Pocket Change Trio led by Michael Rice, got adventurous and turned in in a swinging arrangement of "It Only Takes a Moment" (from Hello, Dolly!), Blackhurst's vocal delivery remained firmly in the legit world; the schizophrenic feel of this combination undercut both elements.
Several times, songs were interrupted to continue the stories with which she had introduced them, making some of those songs feel incomplete or disjointed. But each time the show went off track, there were those delightful stories and the charm of Ms. Blackhurst to make everything right again. It was such a pleasure to be in her presence, even in less than ideal circumstances, that one can forgive a multitude of missteps.
Putting together a tribute show is tricky. There can be a temptation to just topload the whole thing with famous and familiar material and let the audience revel in songs they came in humming. Singers can rest on the surefire success of the material and limit their personal involvement in the performance. On the other hand, performers can reveal their passion for a writer and his songs by investing them with a distinct, personal voice and claim the material as their own. In One of the Girls, Klea Blackhurst saved her most personal connections for the patter and let the songs fend for themselves. Since this was the show's maiden voyage, I have hopes that eventually the musical performance will rise up to the excellence of the spoken portions. I have no doubt she can do it; I hope that she will.
One of the Girls – The Words and Music of Jerry Herman
Birdland – August 26
Category: Reviews