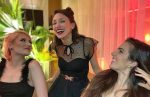 Imagine for a moment that the Andrews Sisters had been cryogenically frozen in a tube right next to Walt Disney and then thawed out in 2019 and handed sheet music to hit songs by the likes of Kesha, Mariah Carey, Aerosmith, and Prince. This will give you a small glimpse of the wonder that is The Randy Andys' Coming Out Party at Pangea.
On any given night, the stage will be occupied by three ladies out of a roster of talented female vocalists. At the performance I attended, Sarah Pothier, Katie LaMark, and Catie Pires-Fernandes made up the titular trio and handled the complex, witty harmonies and choreography with great style and brio, juggling leads and back-ups with dizzying skill. Kesha's "Woman" (co-written with Drew Pearson and Wrabel) opened the show and set up a slightly off-kilter, ribald tone for the evening and it rarely waned.
Each Party is hosted by a special guest of the drag persuasion; Sutton Lee Seymour did the honors on this occasion. Seymour is a parodist of the first order ,and his reworking of songs from The Drowsy Chaperon and Little Shop of Horrors were genuine crowd-pleasers. I might question why he was billed as a host rather than a guest star because the show really didn't need hosting, but he was fabulous in both roles. Special guest Bret Shuford audaciously re-imagined Ray Parker Jr's "Theme from Ghostbusters" as a serious (with a tiny bit of tongue-in-cheek) musical moment and made it work. This is not a sentence I ever imagined writing in a review. As a personal reminiscence of his dreams of playing Disney heroes and the unlikely one he did get to play, "Skipper Dan" was another highlight. As I feel (and should feel) after all good guest appearances, I look forward to seeing him in his own show.
Pothier soloed on "I Enjoy Being a Girl" (Rodgers & Hammerstein) and did it totally straight with no hint of irony or satire, so that her take on the benign sexism of the piece remained unexpressed and made the choice oddly disconcerting. LaMark fared much better with The Cardigans' "Lovefool" (Peter Svensson, Nina Persson), as did Pires-Fernandes with "Into You" (Ariana Grande, Savan Kotecha, Alexander Kronlund, Max Martin, Ilya Salmanzadeh). But the evening was about the trio work, and the three continued to excel throughout, especially on a mash up of Prince's "Kiss" with "Make Me Feel" (Janelle Monáe, Julia Michaels, Mattias Larsson, Robin Fredriksson, Justin Tranter) that managed to reset both songs in exciting ways and made me wish the medley were double in length.
My one major reservation about the show came with the finale. After all the innovation and excitement and musical bravado that had been displayed throughout the night, it ended with a straightforward, unsurprising version of "Boogie Woogie Bugle Boy" (Don Raye, Hugh Prince). It might have worked if they had somehow arranged it far from the Andrews Sisters' original, but the uninspired (albeit tightly harmonized) recreation was a let-down after an evening filled with inspiration and delight. Coming Out Party is a monthly event at Pangea; after having seen it once, return visits seem de rigueur.
Coming Out Party
Pangea – September 9, October 14, November 11, December 9
Category: Reviews