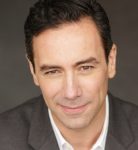 Although he has sung publicly throughout his life—as, for example, a musical-theatre actor, a member of the New York City Gay Men's Chorus, and one-fourth of a quartet called The Broadway Four—Michael Osso made his debut as a solo cabaret artist only earlier this year, when he first performed his show, Words Matter. Directed again by Skie Ocasio, it returned to Don't Tell Mama recently for two more performance. It was a highly enjoyable outing, and I hope that more people will get the chance to experience it.
What is perhaps most striking about Osso is that he is not only totally in command of his talent and of the material he presents, but also fully relaxed in his presentation and intimately engaged with his listeners. It seemed as though he'd been doing this cabaret thing for years.
One of his best assets is a reassuring smile, the kind you might get from a confident trail leader who makes you feel certain you can go the distance on a twelve-mile hike through mud and rain and rocky terrain, and it'll all be great fun. Maybe that smile is also self-assuring: a talisman Osso flashes to ward off apprehension or nervousness. If so, the guy should patent it and sell it. His spoken material between songs is easygoing, and there's just the right amount of it.
The voice is a warm, hardy baritone, particularly effective on ballads. For the first few numbers, Osso mostly kept under wraps his secret weapon: a tender yet vibrant falsetto. It first flourished fully during a lovely performance of Benj Pasek and Justin Paul's "Words Fail," and it subsequently made several other welcome appearances.
The show's theme, as the title suggests, had to do with the way words—elusive though they may be at times—shape who we are and what we believe. Osso, however, explored this theme in a fairly spotty way. His opening number, Anthony Newley and Leslie Bricusse's "Feeling Good," certainly didn't signal that he'd be dealing with that subject matter. And when, early in the show, he sang George Michael's "Something to Save," his only nod to the show's motif was the proposition that the songwriter possessed impressive skills as a "wordsmith."
The most successful exploration of the theme came early in the show, when Osso talked about children's language acquisition. Here, he sang an apt and moving rendition of Maury Yeston's deeply emotional "New Words." He followed up with a revelatory take on the once-ubiquitous pop confection "L-O-V-E" (Bert Kaempfert, Milt Gabler). With passing years, this song—originally sung by Nat King Cole in 1964—came to have a kind of cheesy, lounge-y air about it. It has customarily been performed to celebrate romantic love. To hear it sung as an expression of familial love, as though to a child—first slowly and quietly and then at a breezy swinging pace—was almost like hearing a brand-new song.
Through the remainder of the show, some of his songs were "words" related and others were not. One on-topic standout was a yearning "What More Can I Say?" (William Finn, from Falsettoland).
For a change of pace, he included a medley of upbeat songs associated with three prominent young contemporary female vocalists: Miley Cyrus, Carly Rae Jepsen, and Taylor Swift. This sequence came off surprisingly well, in part because the singer took a mildly tongue-in-cheek approach with the bubble-gummy-ish material and in part because of the strong contributions of music director, arranger, and pianist John Fischer.
Supporting Fischer throughout the evening were drummer Zachary Eldridge and bassist Jerry DeVore. The former produced pleasingly shimmery cymbal effects at one point, while the latter contributed heartfelt bowing on a number of the richer ballads.
After singing the Cyrus-Jepsen-Swift medley, Osso noted that good pop songs are still being written today. He suggested that cabaret singers needn't rely entirely on the old reliable show tunes and standards. Agreed. But he seemed to deliberately steer clear of that traditional source of cabaret material. That's too bad, because there are all sorts of good selections from the "traditional" cabaret file that could have enhanced his ideas about the power of words ("I Could Write a Book," for example) and the ways in which words fail (perhaps "If I Loved You"). And if it was "wordsmiths" he was looking for, some pretty good ones, with names like Porter and Sondheim, were close at hand.
Osso did offer an American Songbook title of sorts for his finale: Henry Mancini, Franco Migliacci, and Johnny Mercer's "It Had Better Be Tonight (Meglio stasera)." He performed it in fine voice and with great showmanship.
His encore was Henry Krieger and Tom Eyen's "Family," which he dedicated to members of his work family, blood family, and chosen family in the audience. After this auspicious appearance, he may soon want to add another demographic to the list: "cabaret family."
Words Matter
Don't Tell Mama – September 5, 7
Category: Reviews