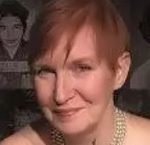 Mary Ellen Ryan's debut cabaret, No Apologies, started with a satirical Ted Talk-inspired Women's Studies lecture, complete with Ryan in reading glasses as "Professor Feminista." The performance alternated between this professor as our guide, and a variety of alter-egos who performed the mostly comic or ironic song list. Directed by Eadie Scott, with musical direction and piano accompaniment by Ricky Ritzel, the show drew from musical theatre, country, and pop.
These alters had strong moments, in which we got a taste of Ryan's quirky character sensibilities. "Chief Cook and Bottle Washer" (Kander & Ebb) brought out a saucy New York accent, and the excerpt of "Dreams of the Everyday Housewife" (Chris Gantry) had the feel of a long-suffering Madeline Kahn. "Goodbye Earl" (Dennis Linde) was a real highlight, with twangy patter introducing the dark comedy of best friends who dispose of an abusive ex. "The Magdalene Laundries" (Joni Mitchell) was a change of tone towards the end of the performance, telling of the confinement and labor abuse of so-called fallen women in Ireland; Ryan's delivery was calm and compelling.
Some of the songs with "Woman" in the title were on-the-nose choices: "I'm a Woman" (Leiber & Stoller), Helen Reddy's feminist pop anthem "I Am Woman" (Reddy, Ray Burton), "She's Always a Woman" (Billy Joel), and Chaka Khan's hit "I'm Every Woman" (Ashford & Simpson) which became ubiquitous as Oprah's theme song—each is a classic in its own right. But to make these chestnuts really land in the mix of a cabaret, we need to be given a way in—perhaps a personal point of entry, something vocally exceptional and musically powerful, or a non-traditional arrangement or interpretation. There's no need for all vocalists all to be hitting money notes or showing off virtuosic technique—some of the most beloved singers are not primarily technicians—but when tackling a famous power-pop song, if you're bringing other strengths to bear, it's important to lead with them. As Ryan was sometimes still finding her vocal support and leading more with acting choices, more singular or unexpected readings would have made the well-known material stand out.
The show as a whole could have been even more engaging with a clarification of the intellectual host persona: either to show more of Ryan's good comic instincts—for example, by making her insufferably self-absorbed and spewing incomprehensible academic jargon—or the scholar could have offered insights that would inspire us to think about gender issues in a fresh way. As it was, the theme was more of a glossed-over feminism and didn't clarify the idea in the title: what are women not apologizing for? Certainly we wouldn't be expected to apologize for our resilience and self-determination, or even for sending up songs that limit our roles to wives and lovers. However, we didn't get to hear specifically what Ryan, herself, thought needed no apology and why this was a topic she wanted to tackle artistically.
This is not at all to suggest that No Apologies needed more biographical content. (If I recall Women's Studies 101, it's in fact, a common misstep to assume that women's artistic contributions are reducible to their personal stories.) However, a more individual take on the subject matter could have brought out the specificity of Ryan's voice and her connection to the material. Ryan has plenty of charisma to offer on stage, with a twinkle in her eye that reminded me of a young Diane Wiest— it seems likely that she will hit her full, unapologetic stride through a combination of her humor and her unique perspective.
No Apologies
Don't Tell Mama – May 8, October 16, November 23
Category: Reviews