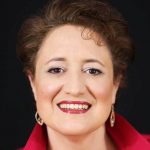 A friend of mine enjoys musical theatre and songs from the American Songbook, but cannot abide anyone singing such music who has an "operatic" voice. Even someone like Audra McDonald or Kelli O'Hara is a no-go for him. I thought about this friend during the opening sequence of Regina Zona's cabaret act at the Triad, Becoming…the Queen 2.0: When One Coronation in a Lifetime Is Not Enough. Directed by Lina Koutrakos, the show, marked Zona's cabaret debut. I believe my friend would enjoy Zona's show despite the fact that she hails from the realm of opera houses and concert halls. This was a dynamic entertainment.
Back in the day, this singer's career specialty was performing the role of the Queen of the Night in Mozart's The Magic Flute. The conceit of this show was that though she's curtailed her opera appearances, Zona is still royalty. So, before we even glimpsed her face, we heard a clip of her singing the character's famous "vengeance" aria, "Der Hölle Rache." The lights then came up on the singer, resplendent in a striking black outfit with a bright floral over-garment, along with a bit of bling.
She began with a mashup—a song from each of the two "dueling" theatrical adaptations of Joseph Moncure March's narrative poem The Wild Party, which opened in New York City in early 2000: Andrew Lippa's "Raise the Roof" and Michael John LaChiusa's "Welcome to My Party." This pairig set an apt celebratory tone. It seems that not only was the evening Zona's club-singing debut, it was also an observance of her imminent 50th birthday. During this number, Zona was every inch a monarch—or at any rate, every inch a drama queen. Her sweeping movements and elastic facial expressions confirmed her theatrical flair. She kidded, flirted with, and all but danced with the audience. Her singing was exuberant and grand. That operatic voice, which she uses some but not all of the time, is a big part of that flair. She can use her rich soprano sound to comic effect—which I think even my opera-detesting friend might appreciate—while her dramatic vocals nevertheless still pack a punch that would please aficionados of "serious" music.
The queenly shtick continued in the next two numbers. Her appealing rendition of "Applause" (Charles Strouse, Lee Adams) underscored the idea that she thrives on being the center of attention. "Homage to My Hips" (music by Gwyneth Walker, based on a poem by Lucille Walker) was an ode to positive body image. But too many helpings of regal egoism, even when presented in a tongue-in-cheek key, might well have grown tiresome. As the show proceeded, that "hail me" stuff subsided—a wise choice on the part of Zona and Koutrakos.
Highlights of the show included a bang-up "I Love a Piano" (Irving Berlin) sung partly in appreciation of her music director and pianist, Jonathan K. Parks, and partly in memory of singer Barbara Cook. In fact, Zona and Parks used the Wally Harper arrangement crafted specifically for Cook. Later, she gave us a superb blending of two Sondheim titles: "The Road You Didn't Take" (Follies) and "Move On" (Sunday in the Park with George).
The most intimate part of the program consisted of two songs describing Zona's introduction to and subsequent romance with the woman who would become her wife. In one of her charming bits of patter, she described first meeting her future spouse while rehearsing at a piano in a studio. She then sang a jazz-inflected arrangement (by John Gabriele) of the song that she was practicing that day, "Here's That Rainy Day" (Johnny Burke, Jimmy Van Heusen). Her rendition was heartfelt and moving, although the sentiment of the lyric ("Funny how love becomes a cold rainy day") is hardly warmly romantic. As if to compensate for that shortcoming, Zona followed the number with a gorgeous, full-bodied take on Harnick and Bock's "When Did I Fall in Love?" from Fiorello!, a fine song that seems to be neglected by cabaret singers.
Joining Parks in support of the singer were Mike Lunoe on drums and Sean Murphy on bass. Both added to the overall excitement. Especially welcome was Murphy's elegant bowing on Ben Moore's "On Music."
This show was more than a fine cabaret debut. It also documented a successful reinvention of self by a musical artist with deeply engrained instincts as an entertainer. Zona reminds us that, while a singing voice may change, a bold, self-assured theatricality can carry you over from one stage to another. Or as some might more bluntly put it, once a ham, always a ham.
Becoming…the Queen 2.0: When One Coronation in a Lifetime Is Not Enough
The Triad  –  December 8
Category: Reviews