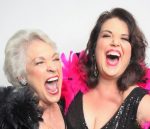 Showbroads—a battling-diva entertainment with Marta Sanders and Leanne Borghesi—appeared late last year at Birdland. Recently, the lively show, under the direction of Nicolas Minas, was repeated at the same venue. The evening proved to be good old-fashioned campy fun. The comic feuding of the two actor-singers never rose to a pitch that seemed especially caustic. Yes, their show was loud, fast, and flamboyant, but there was enough variety in the musical menu, along with an underlying sense of goodwill, to keep it all rather jolly.
The premise: Sanders is planning a cabaret act and wants a supporting performer to join her in order to lighten the load of a brand-new solo show. Specifically, she's looking for an ingénue, someone who'll sing a few songs of innocence, while she herself belts out the juicier stuff: the sadder-but-wiser songs of experience. She opens with a boisterous version of Sondheim's "Who's That Woman?," from Follies, and you don't get much more sad/wise juicy than that. Then at the very end of the number, hired ingénue Borghesi steals the senior performer's thunder by popping up in a blonde wig with childish curls. She's no juvenile, though. She's just another showbroad, someone with every intention of soaking up all the limelight she can find.
Having a comic foil to play against turned out to be a very fine thing for Sanders. Hers is an energetic stage presence, and she is a pro when it comes to engaging an audience. Yet it was fun to see her with someone she could bark and snarl at, belittle with some choice words, and literally push off the stage—occasionally flashing a wide, "all's well" smile that seemed to have been swiped from the face of Martha Raye at her goofiest.
Borgehsi continued to rebound (no big surprise!), popping back at the moments Sanders least wanted her there, as when she interrupted the finale of "Before the Parade Passes By" with an actual pair of those crashing cymbals mentioned in Jerry Herman's lyric. Throughout the evening, she basked in the considerable mischief she'd unleashed. With her powerful, legit-sounding vocals, she's a worthy contender, if a diva of a considerably different stripe from Sanders.
Eventually, as one might suspect, the two ladies began working toward finding a truce and learning a thing or two from one another. They found common ground over some maracas masquerading as bananas while teaming up on "Bésame Mucho" (Consuelo Velázquez). Later, during a short but feisty version of "Flashdance…What a Feeling" (Giorgio Moroder, Keith Forsey, Irene Cara), they bonded over a star's need for red feather boas.
There were some fine solo turns along the way, including Sanders's dramatic "She's a Star" (Alice Dona, Serge Lama, Fred Ebb) and Borghesi's unusual take on "Don't Rain on My Parade" (Jule Styne, Bob Merrill). Most of the latter was sung in a quiet, slow, contemplative manner, with Borghesi giving in to the song's usual romping rhythms only near the very end. Such restraint wasn't always in evidence. The singers' duet on Cy Coleman and Ira Gasman's "Use What You Got" built too quickly, leaving the performers nowhere to go but noisy.
The solid four-piece ensemble was led by musical director and pianist Dana P. Rowe, who also provided striking arrangements for many of the evening's numbers. And midway through the show, Borghesi performed "The Feminine Mystique," a song Rowe co-wrote with John Dempsey, for the musical The Witches of Eastwick.
Aside from "Parade," "She's a Star," and a touching duet version of Joni Mitchell's "Both Sides Now," the whole evening was undiluted comedic fun. I hope that when the current health crisis subsides, these two funny ladies will be up for a rematch, or at least a reprise.
Showbroads: A Nightclub Duel
Birdland  –  March 8
Category: Reviews