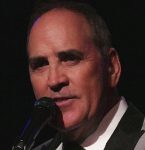 Mark Arthur Miller comes by his love of soul honestly. Growing up in Chicago without his Dad present, he later found out that his father was Motown songwriter Ron Miller. Adventures ensued as he and his sister moved to L.A. and got to know their father and his place in the industry. So, while Soul Searching, Mark Arthur Miller's recent show at the Triad, was filled with classics written by his father and other great writers of the era, he brought something unique to the table in that he actually had met many of these artists and come of age in their shadows.
A well-put-together set was played by a satisfyingly full band: Peter Smith on piano and keyboards, Al Street on guitar, Thomas Gooding on bass, Greg Gonzalez on drums, Antoine Drye on trumpet, and Stacy Dillard on tenor sax; Lauren Scales and Joy Hanson supplied background vocals. The evening opened with "Get Ready" (Smokey Robinson) and "Papa Was a Rollin' Stone" (Norman Whitfield, Barrett Strong)—which, as we learned more about his father's mercurial personality, was a fitting choice. Miller wore a classic mid-century suit with a grey jacket—very Temptations-inspired. I appreciated the clean rhythm in his singing and his obvious love of the material. "For Once in My Life" was arguably Ron Miller's most famous song (co-written with Orlando Murden), sung by Stevie Wonder, Frank Sinatra, and Judy Garland—that and "Touch Me in the Morning" (co-written with Michael Masser) and "Heaven Help Us All" were such standouts in the Ron Miller songbook, that hearing them in this show anchored our understanding of his legacy. Mr. Miller Jr.'s performances of vintage soul songs were complete with moves affectionately borrowed from early 1960s Motown artists, such as The Four Tops.
There was a certain limit, at least for me, in seeing Mark Arthur Miller still in the shadows of the greats. When you stack up vocalists like Otis Redding, Smokey Robinson, and Diana Ross, it becomes tricky to make your own statement with the material. He was ably assisted with consistently innovative arrangements by Peter Smith, who managed to surprise us yet stay in the authentic groove. The audience was certainly on board for the nostalgic aspects, responding audibly as they remembered classic songs—and rightly so: this is great music.
Miller's own performance style emerged in the two new songs in the set, which he co-wrote with Peter Smith: "87th and King" and "I Don't Have the Time" were blues based and in keeping with the style of the evening; they gave Miller a chance to get out from under the inevitable weight of comparison with the original singers of the material and use his own voice. The more casual staging of these numbers, with minimal movement and a direct connection to the lyrics, brought out Miller's strengths. The cover of "Hot Nuts" (Lil Jonson), from the tradition of the double-entendre novelty song, was a really strong, not to mention salty, moment: Miller played the joke as if the pure silliness of it still made him laugh, which gave his vocals an extra punch.
"God Bless the Child" (Billie Holliday, Arthur Herzog Jr.) was a lovely selection, tied to a story about Mr. Miller Sr.'s ongoing struggles with money and gambling. The depth of Mark Arthur Miller's admiration for his talented, humanly flawed, and ultimately very loveable father was truly the through-line for the evening and the source of inspiration for his performance. Closing with "I Want to Come Back as a Song" (Ron Miller) was a nod to the idea that the music continues through generations, even after the loss of the songwriter.
Soul Searching has just been released as an album, featuring both of the original songs noted above and a slightly different Motown lineup; with Smith's orchestrations bumped up a notch with strings on several tracks.
Soul Searching
The Triad – October 17
Category: Reviews