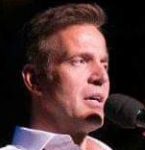 Imagine a universe where sixties music was not dominated by the British Invasion and the rise of the singer/songwriter, a universe in which male pop crooners remained at the forefront of radio play and at the top of the charts. In such a universe, singer Todd Murray would be a part of the pantheon of singing stars led by Vic Damone, Jack Jones, Andy Williams, and the like. In his recent show at the Beach Cafe, Murray displayed a smooth, strong, warm voice that immediately set the audience at ease and ready to let his rich sound wash over it.
A common problem with this kind of crooning is a lack of connection to the lyric and a downplaying of the story. For the most part, the singer avoided this pitfal, but admittedly, there were some metaphorical cobwebs in the concept on a few songs—such as "This Guy's in Love with You" (Burt Bacharach, Hal David)—and in the patter and sexual politics explored between songs. These was outweighed by the pleasure of listening to Murray explore newer material like Matt Alber's "End of the World" and "When Autumn Comes" (Frank Wildhorn, Jack Murphy). Perhaps because these songs didn't have a "history" and didn't come wearing the mantle of The Great American Songbook, he displayed a dramatic connection and an emotional depth that was not always apparent elsewhere. This was especially true on "Time" (Joseph Thalken, Barry Kleinbort), which was so good it made me wonder what an entire evening of new songs by new writers would be like in Murray's hands.
Of the more traditional material, a lovely, lilting medley of "Once Upon a Dream" (Sammy Fain, Jack Lawrence) and "I Can Dream, Can't I?" (Sammy Fain, Irving Kahal) stood out, as did "Moonlight Becomes You" (Johnny Burke, Jimmy Van Heusen), which, with sparkling background assistance from guests Stacy Sullivan and Elizabeth Ward Land, took on airs of The Pied Pipers. Sullivan returned for a duet on "End of the World"; it sounded fine, but proved ill-chosen because its narrative did not support a duet. Like so many love songs that become duets—including, most egregiously, "You Don't Bring Me Flowers"—the impetus for the song is that one of the two does not feel the way the other does; if they felt the same way, there would be no reason for people actually felt the words they were singing there would be no reason for the two of them to be singing it. Broadway's Douglas Sills joined Murray for a bizarrely uptempo "If I Ruled the World" (Cyril Ornadel, Leslie Bricusse) that offered little but the chance to see two old friends have a good time.
Throughout the evening, music director Yasuhiko Fukuoka provided beautifully accomplished piano regardless of the style. He and Todd Murray were a perfect match.
The Beach Cafe – November 8
Category: Reviews