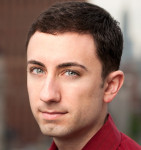 Drew Fornarola is certainly not one to rest on his laurels. His play Straight (co-written with Scott Elmegreen) is enjoying a successful, critically acclaimed run. For others, this would be more than enough for a season, but Fornarola has fashioned another ongoing entertainment to delight New York audiences: Madame Mathieu's Soirée. Its premise is that Madame Mathieu is an eccentric patron of cabaret who on a regular basis presents an eclectic mix of performers and artists in an avant garde variety show. This is an Ed Sullivan show for a new generation (for those of you old enough to get the reference).
Fornarola takes on the role of emcee for the curiously absent hostess. At the performance I attended, the opening number introduced him as not only a low-key amiable presence, but also a charming vocalist and talented songwriter. An infectious melody (well played by musical director, Matt Aument, from Broadway's Gigi) and smart, funny lyrics offered a promise of a witty, stylish entertainment, and for the most part, the Soirée did not disappoint. There was a recurring element of improv in the evening, starting with the show's first "act": the Fable Sisters, a trio of ghostly performers named Mabel, Sable and Fable, who spoke of their demise and scored laughs singing of audience-suggested topics involving giants and ants. It was undeniably funny, but suffered a pitfall not uncommon in improv circles: it lost steam by going on too long.
Dancer Melanie Aceto filled the tiny Duplex stage with Twyla Tharp-like movement accompanied only by her own amazing percussive breathing. Poet Elizabeth Clark Wessel offered a number of short verses that showed promise, but struck me as a bit "collegiate" in style and shape. However, the very fact that there was poetry being performed on the cabaret stage gave it an added shot of interest.
Lindsey Brett Carothers (from the Wicked tour and Bring It On) tore up the place doing "I Drove All Night" (Billy Steinberg, Tom Kelly) while skewering the excesses of Céline Dion with an outrageous impression. She had the chops to pull this off handily. A bit of comedic nepotism followed with comedian Isaac Fornarola. On the plus side there were some pointed observations about the trans life in 2016 that were as daring as they were funny. On the minus side, there were too many meaningless "F-bombs" in the short set. I got the feeling he was trying to make the set a bit more hip or edgy. He should trust his distinctive material more, and not fall back on tired expletives.
Robi Hager (from Spring Awakening and How to Succeed…) has a beautiful voice, and he hushed the audience with a gorgeous version of "She's a Woman" (Kander & Ebb, from Kiss of the Spiderwoman). I could have listened to him all night. Actors Bailey Thomas and Austin Thomas provided a scene from Romeo and Juliet in modern dress (or perhaps I should say un-dress because most of it was performed in morning after underwear) that gave us an unexpectedly involving four or five minutes of Shakespeare.
Throughout the night, as he introduced the acts, Fornarola asked the audience for words and phrases that he jotted down on a clipboard for a climactic improv bit that involved Hager and Carothers being directed by a maddening director through a series of sides and songs done in the style of various star pairings, climaxing with a sidesplitting version of Aladdin's "A Whole New World" (Alan Menken, Tim Rice) with Carothers as Britney Spears and Hager gamely embodying Sofia Vergara. Had it stopped with that, it would have been a perfect ending for the evening, but the choice was made to put improv'd mad-lib type words into the songs, which muddied the humor. The character work would have been funnier with just the original lyrics.  Nonetheless, it was a crowd-pleaser.
There was a post-script of sorts with young French vocalist Marie Oppert, who did two final numbers. She should have done just one: her nicely delivered "If We Only Have Love" in composer Jacques Brel's original French. Her second song, "Astonishing" (Jason Howland, Mindi Dickstein, from Little Women), was basically the same moment we'd just had with the Brel song.
There was an exciting sense of discovery filling this show, and it was heartening to see a room full of primarily young people discovering and embracing the possibilities of cabaret. I wonder how many of them will want to have their moment to shine in future editions of Madame Mathieu's Soirée. It's an exciting thought.
The Duplex – January 14, March 10, May 12
Category: Reviews