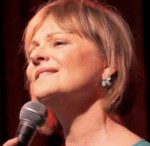 Lyricist Sheldon Harnick, who will turn 92 on April 30, could hardly have asked for a more exuberant or heartfelt early birthday celebration than the one Jennifer Roberts threw for him in the form of her show at Don't Tell Mama, "Jennifer Roberts: She Loves…Sheldon!" Her upfront fan-girl enthusiasm for her favorite lyric writer, dating back to well before she played the leading role of Amalia in She Loves Me in college, combined with her diligent research into his lesser-known work and a powerful stage voice of great range, made for a mostly satisfying and certainly different sort of tribute show, and an overdue one to a deserving lyricist. Roberts was nimbly backed in this enterprise by pianist and musical director Tedd Firth and bassist Tom Hubbard, and directed by Lance Roberts. But the narration seemed to have been put together by Jennifer herself, and relied heavily on quoted correspondence between her and Harnick.
To its credit, this set was anything but "Harnick's Greatest Hits" from Broadway shows written with the late composer Jerry Bock. (Except where noted, Bock wrote all the music in this revue and in this review.) For example, Roberts included only one song from Fiddler on the Roof, Bock and Harnick's most successful show, and it wasn't even Tevye's, but rather Motel the Tailor's "Miracle of Miracles." She sang only one number from the performed score of Bock and Harnick's Pulitzer Prize-winning Fiorello!, "[I Shall Marry] The Very Next Man," featuring its most unfortunate original lyric: "Who cares how frequently he strikes me?/ I'll fetch his slippers with my arm in a sling/ Just for the privilege of wearing his ring." (Most women who have performed this song in recent years have altered that lyric themselves; it's probably past time that Harnick rewrote it officially.) Tenderloin was not represented in this tribute, at all. And The Rothschilds got only half a song, "In My Own Lifetime," in a satisfying mashup with "One Family" (music by Michel Legrand, from A Christmas Carol). Roberts's delivery of this medley was appropriately more soulfully direct and less all-out legit than most of the rest of her show.
The evening was filled with the unexpected. The lyricist himself provided Roberts with three lost songs, among them "Just My Luck," which came from the first Bock and Harnick collaboration, The Body Beautiful, a 50-performance Broadway flop, and "That's How Much I Missed You," cut from Fiddler in Detroit, which Roberts said was having its first live performance. Another of her selections that had been lost on the road was "Where Do I Go From Here?" from The Rothschilds. Two songs for which Harnick wrote both music and lyrics came from 1950s revues, before he met Bock: "The Ballad of the Shape of Things," which Harnick wrote for Charlotte Rae, his college schoolmate, who had persuaded him to come to New York to write lyrics; and "Garbage," which was introduced by Beatrice Arthur. Roberts did both numbers credit.
Perhaps understandably, She Loves Me, which, like Fiddler, is enjoying a successful current revival on Broadway, remains her favorite Bock-Harnick musical and got four full songs here: her set opener, "Tonight at Eight"; "Will He Like Me?"; the musical's title song; and the register-busting "Ice Cream," which nicely showed off Roberts's top notes. The Apple Tree was represented by a medley of "Movie Star" and "Gorgeous," and a lovely rendition of "What Makes Me Love Him?" (I do wish her narration, which seemed at times disjointed and a bit too fan-based, had done more to set up this last show, in particular.)
"Jennifer Roberts: She Loves…Sheldon!"
Don't Tell Mama – March 31
Category: Reviews