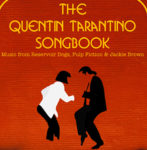 It is a well-known fact that in addition to being an accomplished director, Quentin Tarantino is a lover of movies. His films are filled with homages and "quotes" from classic and pulp movies. Anyone who has seen his work also quickly realizes that he loves "old" music—often songs and themes from earlier films and generations. He has an uncanny knack for choosing just the right song for a scene or a character. The idea of doing an evening of music connected with his movies is so natural, it's hard to imagine that no one has done it before. Co-written (with Ashley Whitrock), directed, and music directed by Adam B. Levowitz, the show (Volume 1) featured music from Reservoir Dogs, Pulp Fiction, and Jackie Brown. Levowitz assembled an 8-piece band (including 5 horns) for the occasion, and staying current with Tarantino's oeuvre, named it "The Hateful Eight Orchestra." His arrangements seem right on the money, but on too many occasions we had to take this on faith because the group lacked the precision and tightness this material demands. The music seemed under-rehearsed.
There were five vocalists on hand to recreate aural moments from the three movies; each was given ample time to impress. The results were, again, mixed but the good moments were very good indeed. After the band played an overture of sorts from Pulp Fiction, Scott Coulter, a cabaret favorite, opened with Reservoir Dogs' "Little Green Bag" (Jan Visser, George Baker). Coulter revealed a rough, bluesy side that I had not seen before, but definitely want to see again. He jumped into Chuck Berry's "You Never Can Tell" (Pulp Fiction) with crowd-pleasing gusto, and closed the show with a great rendition of The Grass Roots hit "Midnight Confessions" (Lou T. Josie, Jackie Brown).
Mike Schwitter, with boy-next-door looks, sound, and charm, had people in the audience singing along to "Hooked on a Feeling" (Mark James, Reservoir Dogs) and played the not-quite-innocence of Ricky Nelson's "Waitin' in School" (Tommy & Dorsey Burnette, Pulp Fiction) well, but there was too much build-up and not enough pay-off. A talented young man named Blaine Krause was the find of the evening. His smooth rich R&B sound easily morphed into effortless, Philip Bailey-ish falsetto when needed. The Robins' "Since I First Met You" (Marty Robbins, Pulp Fiction) was sensational, and he topped himself with The Delfonics classic "Didn't I (Blow Your Mind This Time)" (Thom Bell, William Hart, Jackie Brown), bringing some much needed humor to the proceedings by calling up an unsuspecting woman from the audience to be the center-stage object of his affections.
The women vocalists did not fare as well as their male counterparts. Victoria Cook squandered the great song "Street Life" (Will Jennings, Joe Sample, Jackie Brown), choosing to let it all be about groove and decibel level and failing to touch on the pain and vulnerability inherent in the lyrics. Jessica Hendy fared a bit better with the Dusty Springfield classic "Son of a Preacher Man" (Ronnie Wilkinson, John Hurley, Pulp Fiction), at least telling the story clearly, even if she somehow managed to miss out on the sexuality pulsing through the melody and lyrics. When they paired for Jackie Brown's "Inside My Love" (Minnie Ripperton, Richard Rudolph, Leon Ware) their voices blended beautifully and their emphasis on sound over story actually worked well. The men formed a trio for "Flowers on the Wall" (Lew Dorsett, Pulp Fiction), but what should have been a campy fun number turned out to be boring. It sounded as though they had been given the music for it five minutes before showtime and were karaoke-ing their way through it.
Although the program divided the show into sections with titles like "Rising Pressure" and "Love or Intensity of Emotion," there was no real movement through the piece and no real journey for the audience. When the show ended, with "Midnight Confession," it just seemed as though someone had timed the thing and said, "Okay, we have to stop now." There was no build and no climax.
It's unfortunate because there was potential for an exciting show if more attention had been paid to the vocal performances and more time spent tightening up the band. One can envision this launching a movie music franchise—followed by The John Landis Songbook, The George Lucas Songbook, or The John Hughes Songbook. There's a wealth of material to explore.
The Quentin Tarantino Songbook, Vol. 1
Nuyorican Poets Café – April 8
Category: Reviews