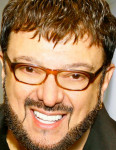 The cabaret act as backers' audition is not a brand new concept. But Louis St. Louis took it to extremes in this outing, with generous selections from five of the shows for which he has written music (and mostly co-written lyrics) that have yet to make it to Broadway—apparently not for lack of trying. Collectively, the five shows contributed eleven of the numbers in this 15-song set, all but one of them composed by St. Louis.
He began with a rousing opening number, "Here I Am Back Home Again" (lyrics co-written by Wes Harris and St. Louis) that immediately showcased his estimable trio of backup singers and four-member band. I'm not sure which lyricist borrowed the song's second line, "Right back where I started from" (from "California Here I Come," words and music by Al Jolson, Buddy De Sylva and Joseph Meyer), but St. Louis claimed to be the only cabaret singer performing at 54 Below who also had been a regular at the old Studio 54 decades ago. Hence, "back home again," I guess.
By far, the most engaging and promising of the musicals that were subsequently showcased was Sugar Hill, set in that tony section of Harlem between 1927 and 1954. The lyrics were co-written by Roberto Fernandez. The backup trio, comprising Ramona Keller, Darryl Jovann Williams, and Onyinyechi Vivian Nwachuku ("Oni"), really shimmered on this first song from the show, "Up Here on Sugar Hill." Keller then touchingly sang two songs as the daughter of a three-generation family of three black women, especially on "What Color Is Love?"—reflecting on her involvement with a white boy. Oni, who sang the role of the grandmother, and Keller were joined by Ethel Beatty Barnes as the matriarch in the middle. Barnes was in great voice but inexplicably and distractingly "on book." St. Louis said the show had been recently optioned for Broadway: "it only took 50 years."
Besides Barnes, two other guest artists were featured. Lana Cantrell sang the only non-St. Louis number, "I Will Wait for You" from The Umbrellas of Cherbourg (Michel Legrand, French lyrics by Jacques Demy, English lyrics by Norman Gimbel). It was a welcome intrusion and Cantrell was in good voice, but the driving arrangement and her excessive hand motions made for a delivery that was Las Vegas-y to the core. She then duetted with St. Louis on "Love Will Turn Back the Hands of Time," a song he wrote for the movie Grease 2 (lyrics by Howard Greenfield). St. Louis soloed on "Sandy," a song he wrote for John Travolta to sing in the original Grease movie; it's a generic 1970s take on 1950s teen music, and he joked that he was not exactly age appropriate, or well cast as John Travolta's character.
Loni Ackerman sang the dramatic "I Am Heathcliff" from Wuthering Heights, the newest St. Louis musical seeking backing, based on his "favorite book and second favorite movie"; St. Louis also wrote all the lyrics for this one. St. Louis sang two other numbers, as Heathcliff, from Wuthering Heights, but it was not enough to give a clear sense of the whole show. The three other self-written musicals he showcased, Truckload, Apaixonado (Brazilian Portuguese for "Passion") and The Monkey King, with just one or two songs apiece, also failed to catch fire as musical theatre in this context—although Darryl Jovann Williams's delivery of "A Home" from the last of these three indicated that he might be ready to launch a successful solo career.
Through it all, the quartet of musicians was just splendid. Frank Pagano on drums, Paul Nowinski on base, George Naha on guitar, and Adam Wiggins on synthesizer (he was also co-arranger) backed St. Louis, who played piano for virtually all the songs.
As for the title of the show, "Still Comin' in Thru the Kitchen," what does it mean? St. Louis never explained its relevance. Through the 1950s and even into the early 1960s, even the most famous black entertainers were not welcome to stay at the hotels where they performed, and were required to approach and leave the stage through the kitchen. How does this apply to St. Louis? It's just one of the mysteries of his ambitious but patchy show.
"Still Comin' in Thru the Kitchen"
54 Below  –  September 9, 10
Category: Reviews