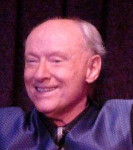 There could hardly be a more appropriate song for Ira Lee Collings to open his show "Off the Charts!" with than "I Want to Be Happy" (Irving Caesar, Vincent Youmans), which he performs with a childlike energy and joy, even inviting his audience to share in his enthusiasm. Now 79, Collings immediately gives the impression of a life well-lived, with his heart smack-dab in the right place. Throughout the proceedings he gives a self-assured performance, but the show offers more than that: it's a celebration of life itself.
The evening is replete with marvelous and mostly off-the-beaten-track song choices, scattered with patter like colorful confetti—engaging anecdotes that run the gamut, from being chased around the barn by a turkey as a boy in Indiana, to opening for the great Dawn Hampton in the '60s, to his 28-year relationship with his partner (whom he brings up on stage at the end of the show, a moving tribute to the power of timeless love in a culture obsessed with youth and physicality).
Collings has a lyric tenor voice that ripples like a burbling brook in springtime, and is just as hopeful. In the rarely performed "Who Am I?" (Tony Hatch, Jackie Trent), he doesn't dwell on the lost dreams but on the true love that is near, and we believe his good fortune. After recalling what it was like to grow up gay in small-town Indiana ("There were heteros… and more heteros"), he eases into "No Matter What Happens" (Michel Legrand, Alan and Marilyn Bergman) and then turns it into a powerful, tear-inducing pride anthem. Finally, with heart on his sleeve, he brings aching tenderness to two well-known chestnuts, "Misty" (Errol Garner, Johnny Burke) and "There's a Small Hotel" (Rodgers & Hart), the latter with his longtime partner by his side, singing along with the audience on the chorus.
For all of that heartfelt sentiment, though, Collings goes for laughs as well, with a handful of comic songs and parodies in the mix. "It's So Nice to Have a Man Around the House" (John Elliot, Harold Spina) is delivered with a wink and a smile. Best of all is Murray Grand's "I Always Say Hello to a Flower"; Collings's two-piece band (Woody Regan on piano, Ritt Henn on bass) joins in the singing, improvising a word or two and adding cartoon-like voices, to great comic effect. Regan and Henn are a terrific musical and comic match for Collings.
Collings takes a short break and introduces a guest at each show. For the performance I attended, Aussie Stella Pulo sang three numbers with plenty of brio; the highlight was a knockout version of "Class" (Kander & Ebb).
At one point, Collings describes his show as a tribute to "Gay Geezer Power," but it goes beyond that. The beauty of his humanity crosses all boundaries, and his show, in its own intimate way, does more for the argument for equality than the passage of any law.
Collings is an old pro, seemingly as overjoyed to be on the stage now as he may have been decades ago. He knows how to choose the right material for himself, and then deliver it with panache and an abundance of heart. In short, he's unforgettable, and well worth a trip to Don't Tell Mama.
"Off the Charts!"
Don't Tell Mama – September 17, 21, October 1, 5
Category: Reviews