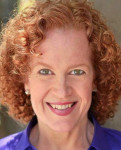 On opening night of her new show, "back," beloved cabaret singer and comedienne Georga Osborne was greeted like a rock star as she made her way to the stage through a packed room at Don't Tell Mama—she was "back" for her first solo outing in ten years, and fans and well-known cabaret scene-makers hadn't forgotten. Her opening number, "Back in the High Life Again" (Steve Winwood, Will Jennings) perfectly captured the sentiment.
Her program catches us up on what she's been doing during the intervening years, which is good fodder for some laughs as well as a bit of philosophical introspection. Osborne excels at choosing just the right material to fit her narrative, and many of the songs were rare, glittering gems.
One recurring theme is Osborne's relationships with her family, particularly her mother, now in her nineties. "It's hard when you see yourself going this way," she says, readying us for a laugh, and then sings "(I'm) Becoming My Mother" (Brian Lasser, Gary Gardner), which becomes an unexpected, touching valentine instead. Another reflective piece, "Home to Myself" (Melissa Manchester, Carole Bayer Sager) comes from the assured place of someone who appreciates fond family memories but has come to appreciate also the peacefulness of the single life. Osborne recalls visiting the much-changed house she grew up in as the youngest of seven daughters, which leads into "This Ole House" (Stuart Hamblen) and the hymn "Softly and Tenderly" (Will L. Thompson). She then acknowledges, "We can't go back." Osborne approaches this tender material with courage and maturity, and it's ultimately very moving. In a powerful pairing of Rodgers and Hammerstein's "Hello Young Lovers" and Jerry Herman's "Kiss Her Now," she wistfully looks back at youth and urges young listeners to grab each moment for all it's worth.
For all of this, though, Osborne can quickly turn on a dime and deliver raucous laughs with some truly side-splitting material. "Mother Nature" (Steven Silverstein, Ruth Williamson) allows Osborne to contemplate the cruelties that aging inflicts on a woman's body. She doesn't overplay; she delivers the song with a knowing wink rather than contempt or bitterness. One of the funniest bits I've ever seen on a cabaret stage is a medley she calls "MMSW" (various songwriters). Osborne holds up one of the record albums put out in the 1960s by wannabe singer Mrs. Miller. After explaining that her proposal for a show about women's rights was rejected by her director, Lennie Watts, Osborne channels Mrs. Miller and delivers more-contemporary material in Mrs. Miller's voice. The medley includes several women's rights songs, everything from Helen Reddy to Beyoncé and beyond, which left the audience gasping for breath from paroxysms of laughter.
All too soon, Osborne closes with the fitting "Be Good to Yourself" (Steve Perry, Jonathan Cain, Neal Schon), sage advice about self-forgiveness and acceptance. My only quibble in this very fine evening of entertainment is the key chosen on a couple of the pop songs, namely the aforementioned opening song and "New Attitude" (Sharon Teresa Robinson, Jon Gilutin, Bunny Hull). Although Osborne's soprano sounds great and works well on the theatrical material, the higher legit sound doesn't quite jibe with these pop/rock songs. An easy fix.
Musical director Steven Ray Watkins is terrific accompanying on the piano, and he even supplies comic improvisation. When the mic became disengaged from the cord and Osborne, flustered, asked him, "Steven, can you put it in?", his reply got one of the biggest laughs of the night. Lennie Watts has directed with a sure hand, and the evening moves along at a good clip, with many nice surprises.
It's great to have Georga "back" on the cabaret stage; you owe it to yourself to go see what the fuss is about.
"back"
Don't Tell Mama  –  September 19, 27, October 12
Category: Reviews