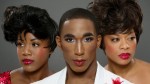 It is rather surprising that until now nobody has done a stage show or film about the life of Sylvester, a flamboyant African-American singer whose flame burned brightly and memorably during the disco years. (A documentary is apparently in the works.) Years before Boy George, Sylvester was cross-dressing (although he rejected the label "drag queen"), and he was openly gay at a time when no other male pop singers, to my knowledge, were out (Freddie Mercury, for example, was coy about it publicly, despite his onstage antics).
Now, a new musical has opened Off Broadway at Theatre at St. Clement's, Mighty Real: A Fabulous Sylvester Musical. It's a straightforward biographical telling of the Sylvester story, and it provides a star-making showcase for its charismatic lead, Anthony Wayne. Wayne (as Sylvester) narrates his life story directly to the audience: his humble beginnings in Los Angeles as the first of six children; having an absentee father; being raped at a very young age; the influence of gospel music in the Pentecostal church, from which he later was ostracized because of his effeminacy; homelessness; and the ups and downs of his career, his search for love, and his death from AIDS in 1988.
The chronological narrative, which in some cases can be an insufficiently imaginative construct for a stage musical, works here, probably because very few people under the age of forty remember who Sylvester was—and there are just enough new and interesting details for those of us who are familiar with Sylvester. Besides that, Wayne proves to be a very good storyteller, not only witty and fabulous as one might expect, but pulling us into Sylvester's loneliness with sudden, vulnerable moments that are very powerful. "I learned that everyone at church is not there to pray with you, but to prey on you," he says to the hushed audience in one naked moment.
In a lighter moment, he speaks of his early career days with the Disquotays, during the time of the Watts riots: "While everyone was burning and looting, we were grabbing wigs, makeup, and hairspray!" He learned very quickly, as he says, "the illusion you create on stage is everything!"
At one point, he talks about the women who influenced him—Lena Horne, Bessie Smith, Billie Holiday, Diana Ross, Aretha Franklin, Patti LaBelle, Tina Turner—and tells that he was glued to the television when these divas were on. This gives an opportunity for his backup singers to come forward and deliver roof-raising renditions associated with the last three.
Naturally, the well-written patter (the show, not surprisingly started its life as a cabaret act at Le Poisson Rouge last year) is there to flesh out all the glorious songs. The high-energy hits are performed, of course, but also impressive covers that he recorded that were not disco hits. These include "Ooh Baby Baby" (Smokey Robinson, Warren Moore), "You Are My Friend" (Patti LaBelle, Armstead Edwards, James "Budd" Ellison), and an almost unrecognizable but turbo-charged, syncopated version of "Cry Me a River" (Arthur Hamilton).
I suspect that Wayne, who has a few Broadway shows to his credit, has more heft to his voice than Sylvester did, but no matter. Wayne has the audience rising to its feet and wiping tears from its eyes with his dramatically expressive and athletic vocals—swooping, belting, crying, riffing, and reaching impossible heights. It is astonishing, and one wonders how he does this several times a week. However, it is not excess for the sake of excess (and even so, Sylvester was all about excess)—he appears to be deeply feeling every note he sings and he calls up a strength and passion that comes from every fiber of his being. It's unbelievable, except that you are seeing and hearing it right in front of you.
Credit must also be given to Anastacia McCleskey and Jacqueline B. Arnold, who play Sylvester's long-time backup singers Two Tons o' Fun (Izora Armstead and Martha Wash). They later became The Weather Girls, and they perform their big hit "It's Raining Men" (Paul Jabara, Paul Shaffer) in this show. But more than that, they have several moments to shine with Wayne, and McCleskey also served as choreographer, keeping things lively and energetic from the get-go.
At the end of the show, we hear of Sylvester's sad, final years, when he finally found love only to lose his lover to AIDS, and then he himself succumbed to the disease the following year. And yet, the show ends triumphantly, as we are reminded that Sylvester lived life bravely and fully every moment he was on this Earth. Closing with "Dance (Disco Heat)" (Eric Robinson, Victor Osborn) and then the title song, "You Make Me Feel (Mighty Real)" (James Wirrick, Sylvester), the audience is on its feet, clapping and singing along—perhaps, in some small way, reliving the abandon and barrier-breaking days of '70s disco.
The show was directed and produced by Wayne and his real-life partner, Kendrell Bowman (Sheryl Lee Ralph is also a producer), and Wayne wrote the script. Bowman can also be lauded for creating the costumes, which were apparently carefully modeled after some of Sylvester's own outfits. Backup vocals were also provided by Deanne Stewart and Rahmel McDade, and an explosive five-piece band is led by musical director Alonzo Harris.
Expect a highly entertaining and very moving ninety minutes of riveting performance. I anticipate that many laurels will be coming Anthony Wayne's way—his previous ensemble roles on Broadway should now give way to starring ones.
Theatre at St. Clement's  –  September 5 – October 5
Category: Reviews