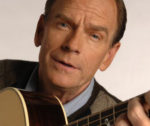 The Rubin Museum of Art on W. 17th Street is a restful, almost zen-like space that inspires calm and contemplative silence. The museum's ongoing series, Naked Soul, takes place in a small, attractive performance space with cherry wood walls and a lone piano center stage. The mission of the series is to present completely acoustic events—no microphones, no speakers, not a wire to be seen. Singer/songwriter Livingston Taylor fit this space and concept like the proverbial hand in glove. The unassuming manner, the twinkle in the eye, the soothing voice, and the ineffable charm were all amplified in these unamplified surroundings. Taylor, younger brother of James, has had a 50-year career a bit to the side of the spotlight that has washed over his more well-known sibling, releasing albums at a steady pace, writing wonderful songs in a more folky style, with frequent forays into the Great American Songbook.
He paced the stage, even before singing, like a kindly professor (which he actually is, in Boston)—a winning amalgam of Will and that other Mr. Rogers, James Stewart, and Pete Seeger. When he did sit at the piano, his first selection was by that well-known folk song writer, Frank Loesser: a delightful reinvention of "Sit Down, You're Rockin' the Boat." Taylor's approach is so personal and so "non-legit," that if one had never heard of Loesser, one would have assumed that he was, in fact, a purveyor of folk music.
Taylor confessed to, and displayed throughout the show, a passion for lyrics. He followed his opener with another Loesser lyric, "Heart and Soul" (music by Hoagy Carmichael) done totally straight and not for fun. It was gorgeous. Later on, Oscar Hammerstein II was given the same reverential but totally personal consideration: "It Might as Well Be Spring" (music, Richard Rodgers) was like a sigh of first love wafting through the room. With a gleam in his eye, Taylor next gave us a recitation of the same team's "I Cain't Say No" (with no thought whatsoever to gender) that was as telling a tribute to Hammerstein's magic as any I have heard. "Pick Yourself Up" (Dorothy Fields, Jerome Kern) and Stevie Wonder's "Isn't She Lovely" were other highlights—but literally every song choice was a gem. He divided his time between piano and guitar, both expertly played.
His own songs were witty and charmingly melodic. "The Dollar Bill Song" follows the course of true romance through the circuitous journey of a crumpled dollar bill, upon which a woman has written a declaration of her love. "You're the Boss of Me" is a funny surrender to a lover. A hauntingly beautiful love song entitled "There I'll Be" has stayed with me since that night. A bit of specialty material called "I'm Not as Herbal as I Ought to Be" was another delight.
On a number of occasions, Taylor said how much he needed and how much he loved his audiences—it did not ring false. The feeling was mutual. There was such joy and wonder and whimsy and wisdom on display, that when he got near the end and left us with his original "Never Lose Hope," it was a message we had received throughout our time with him. This was a memorable and unique experience and I was happy to have been a part of it.
Rubin Museum of Art – September 8
Category: Reviews