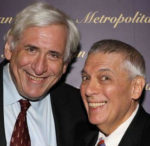 With Ian on xylophone and Elliot on piano, the Finkel brothers owned the stage at the Metropolitan Room on September 9 as if variety-show acts were still going strong and winning us over—not only with shtick, but also with quality and integrity.
The Finkels are the sons of Emmy and Obie award-winning actor Fyvush Finkel (1922-2016), who started in the Yiddish Theatre, went on to a Broadway debut in Fiddler on the Roof, and had a career that spanned TV series from Boston Public to The Simpsons, and film roles including Mr. Greenblatt in Brighton Beach Memoires opposite Robin Williams. The next generation is very accomplished in its own right: Ian has a Grammy award and has worked with everyone from Philip Glass, to Tito Puente, to Mr. Rogers. Elliot has played at Carnegie Hall and the White House, and he has three Broadway credits, working with Sid Caesar and Michael Feinstein.
They come from the fine tradition of instrumentalists with theatrical flourish, who do something technically difficult and look up with a wink to see whether you were impressed and whether you're having as much fun as they are. We were. As bandleader and arranger, Ian counted everyone in, cued the solos, conducted big finishes, and verbally steered the ship the way you might have heard Count Basie say "one more once" or James Brown say "take it to the bridge," all with comic timing and Rodney Dangerfield-style facial expressions. The seasoned band consisted of Robbie Kirshoff on guitar, Ed Sterbenz on bass, and Martin Fischer on drums.
"Sway" (music by Pablo Beltrán Ruiz and Luis Demetrio Traconis) showed off their many truly adept tempo choices: never rushed, always danceable. "On the Sunny Side of the Street" (Jimmy McHugh) demonstrated that the band can swing with the best of 'em. " Over the Rainbow" (Harold Arlen) had a nuanced introduction on xylophone, building to a sweeping opening to the verse, and featured chromatic descending runs on the piano under the melody that sounded as though Chopin had stepped in to comment, ending with their trademark big finish. Ernesto Lecuona's "Malagueña" was an assertive paso doble that would have caught the ear of any ballroom dancers familiar with the paso doble dance, which was inspired by the flourish of the bullfighter and his cape.
Because it seems only fitting to feature another talented set of brothers, the George & Ira Gershwin Medley (with Ira being the silent partner this time 'round) was the Finkels' centerpiece. Opening with "Rhapsody in Blue" where your mind couldn't help but go to the first aerial shot of Woody Allen's "Manhattan," Ian was working with four mallets and a very full, orchestral-feeling arrangement. Beautiful transition to "Love Is Here to Stay" with a most inviting lilting tempo, and then into a speedy "Lady Be Good." "Summertime," was as delicate and warm as you could wish, then "I Got Rhythm" introduced a running musical joke of deliberate occasional "wrong notes" and deliberately ham-handed moments on both piano and xylophone, as if to say: I got rhythm but I ain't got pitch. Next was "An American in Paris," followed by "Strike Up the Band," featuring Elliot's solos with the heavy left hand of 1920-30s stride piano. "Rhapsody…" and "…Rhythm" duked it out at the end, with a return of the wrong-note joke with impish faces from both guys as they looked as if they were wondering how many times they could get away with it.
The guest that night was comic magician Jeff Moche. Because of his self-effacing set-up, it was a sneak-attack when he showed his real skill at sleight of hand. He read a list of all the great things he'd done and all the props he'd used as reasons why we should clap more, and at one point, when he wasn't getting what he thought was enough audience attention, proclaimed: "Abra-ca-frickin'-dabra." This played really well, as Moche knows exactly how to build and misdirect attention, and he has clearly worked in front of every conceivable type of crowd. The band then closed with a nimble boogie-woogie version of "Sweet Georgia Brown" (Ben Bernie, Maceo Pinkard).
Ian is routinely billed as "the world's greatest xylophonist," which he may very well be. (It also helps the claim that it's a narrow playing field, as seminal jazz players like Lionel Hampton usually worked on vibraphone, and the occasional well-known classical percussionist (like Evelyn Glennie) or the xylophone/marimba player of Frank Zappa fame, Ruth Underwood, operate in completely different orbits.) The Finkels' approach to music occasionally exhibits the "too many notes" syndrome (phrase borrowed from Peter Shaffer's Amadeus), but really, who cares? These gentlemen can really play, they're generous with the crowd, and the hours of scales they must still do on a daily basis to pull off those solos is sobering, even with a drink in hand. If you can check them out on September 28, the guest artist will be Cheryl Ann Allen, singing as Sophie Tucker.
Metropolitan Room – August 3, September 9; September 28
Category: Reviews