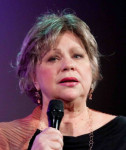 For all I know, Joyce Breach sits at a piano or desk and maps out meticulously each moment of every song she sings—measuring every breath, polishing every phrase, tailoring every nuance. But that certainly doesn't appear to be the case. Breach—a performer who moves in both cabaret and jazz circles—seemingly just enters a song and lives in it for the time it takes to perform it. There's nothing labored about what she does. She includes few if any ambitious embellishments on melody lines. Lyrics, meanwhile, pour out like a stream of thoughts that happen, at points, to conveniently rhyme. Whether in fact she prepares assiduously or not, Breach projects the quiet authority of someone who trusts that her performer's instincts are sound and can carry a song where it needs to go.
At a recent one-nighter at Jazz at Kitano, Breach and her three accomplished musical cohorts—pianist Mike Renzi, cornetist Warren Vaché, and bassist Neal Miner—performed two sets, the second of which I attended. The singer flattered the late-night crowd by telling us we were smart to come to the later show. "The second set is always the hipper set," she said. At any rate, said set made for a fine hour of listening.
The quartet's repertoire was an agreeable mix of durable standards and lesser-known selections. The program opened with Cole Porter's "It's All Right with Me," and the encore was Jule Styne, Betty Comden and Adolph Green's "The Party's Over." But between these bookends were included such relatively unfamiliar numbers as Harry Richman and Irving Kahal's "Moonlight Saving Time" (which will be heard on Breach's upcoming CD, "Moments Like This") and the title song from the 1964 Broadway musical I Had a Ball (Jack Lawrence, Stan Freeman).
Though her lower notes are markedly full and resonant, Breach, in her higher register, frequently sings in little more than a whisper. However, when she extends the last part of a plaintive phrase, she'll create a sweet, warm, vibrato-infused hum. Or, when she really raises the stakes, she'll glide confidently and elegantly to a higher volume level and an elevated state of emotion. This happened, for example, on her rendition of "I'll Only Miss (Him) When I Think of (Him)" (Sammy Cahn, James Van Heusen)—the melancholic sentiment of which was enhanced by some mournful-sounding riffs from Vaché.
Another standout was "The Shadow of Your Smile" (Johnny Mandel, Paul Francis Webster). This was performed at a measured pace that proved appealingly hypnotic. The performance retained at most only a trace of the bossa nova–inflected playfulness that has often been associated with the song. But it worked beautifully. (Later I found on YouTube the song's original performance from the soundtrack of the 1965 film The Sandpiper. There it had a tempo similar to that used by Breach and company at Kitano.)
The centerpiece of the set for me was the performance of Eric Maschwitz, Jack Strachey and Harry Link's "These Foolish Things (Remind Me of You)." Breach made the imagery in the song especially vivid. For instance, when she sang about "candle lights on little corner tables," she seemed to be visualizing the scene in detail—and inviting listeners to picture it as well. The song is a lengthy undertaking, if one decides to include all the lyrics (which Breach apparently did). And some of the song's British turns of phrase don't always roll off American tongues with the greatest of ease. Breach managed to make smooth at least one ungainly rhyme ("apartment"/"heart meant") and one clunky near rhyme ("pillow"/"kilo"), and she was unselfconscious about using the two-syllable British pronunciation "strawb'ries" in order to make a line scan tidily. Her insistent repetition of the phrase "Oh, how the ghost of you clings" made the awakened memories of the absent lover seem not to be sentimental reveries but instead a set of gnawing emotional torments—an actual haunting.
The only off-putting element at all about the quartet's winning appearance at The Kitano was their slightly obtrusive moments of banter with one another regarding which selections would or would not be sung and in which order. I know that spontaneity is a hallmark of jazz sets, but is it such a straitjacketing practice to agree on a set list before the show starts? Why weave a seamless spell if you're going to risk breaking it by talking shop in front of the customers?
Jazz at Kitano  –  June 13
Category: Reviews