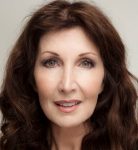 Whenever students or singers that I'm directing adopt a personal-confession format for their performance, I am quick to point out that while there should be truth on stage, there don't necessarily have to be facts. The best singers allow the audience to experience their own moments of joy, grief, or passion through the storytelling of the songs instead of just witnessing the performer experiencing them. This thought came to mind as I watched Joanna Gleason's new show, Out of the Eclipse, at Feinstein's/54 Below. The title refers to a recent dark time in her life when she lost both her mother and her father. Rather than using word and song to comment on her process of grief and healing, she seemed to be using the show as a part of the process. This put the audience in the position of observing her expressions of sadness and pain from an almost-clinical perspective, rather than allowing us to share in a universal expression of the emotions at hand. This began to border on creepy when she beamed at having dissuaded her father, near the end of his life, from his long-held atheism and making him accept a "re-conversion." Even worse, she actually seemed to imply that her new grandson was the reincarnation of her father. She shared all this with an enthusiasm borne from the assumption that the audience would, of course, agree with her pseudo-spirituality.
I have been a fan of Ms. Gleason through much of her Broadway career, having been completely smitten with her portrayal of the Baker's Wife in Into the Woods. She is in good voice and a pleasure to hear, but rarely did she sing an entire song, choosing, instead, to break songs into tiny pieces interspersed with more patter and more "facts," thereby diluting the pleasure of her vocals. Her commitment to the songs came across as perfunctory; she seemed to be using them as filler to get to the next bit of chat. Even "Lost in the Stars" (Kurt Weill, Maxwell Anderson) and "Who Knows Where the Time Goes?" (Sandy Denny), sung in their entirety (and a perfect fit for her premise), seemed oddly unfocused and dissonant. This problem was in no way the fault of her exemplary musicians and back-up singers, led by music director Jeffrey Klitz, but their work, too, was often undone by the excessive talk.
Two moments offered a glimpse of the delights a less concept-driven show might have offered. Gleason's reminiscences of her time with the infamous Broadway flop Nick & Nora were hilarious, with book writer/director Arthur Laurents the butt of some pointed skewering. That turned into a medley of "You'd Be So Nice to Come Home To" (Cole Porter) and N&N's "Go Home" (Charles Strouse, Richard Maltby, Jr.) leading to a surprise appearance by her husband, Chris Sarandon, whom she met and fell in love with during the limited Broadway run. Then there was a dynamic re-imagining of Rodgers and Hart's "With a Song in My Heart" that was as thrilling as anything I've heard in a club so far this year. But even these successes were not enough to counterbalance the feeling of discomfort her confessional cabaret engendered.
Out of the Eclipse
Feinstein's/54 Below – July 3, 5, 6
Category: Reviews