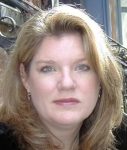 Singer Carol McCann described the theme of her new show, Music Lessons (recently seen at Pangea in an encore performance), as a collection of songs from which she has learned something. It's a simple concept, made all the more simple because she never really delved into the interesting possibilities that the title evoked. It became, instead, a collection of songs she likes, or songs by singers she likes, into which she inserted a few songs of her own devising, which belied the intent of the show altogether. The lessons were given short shrift in the patter, and the songs, themselves, offered few clues to their reason for inclusion.
She has a strong and immediately impressive, bluesy voice that made her first number, Bonnie Raitt's hit "Something to Talk About" (Shirley Eikhard), a terrific introduction to her sound, her energy, and her individual delivery. She was backed by a solid trio of music director John DiPinto on piano, Greg Landes on percussion, and Marc Schmied on bass. DiPinto shared some incredibly tasty back-up vocals with guest Mary Foster Conklin. With the second number, "I've Got to Use My Imagination (Gerry Goffin, Barry Goldberg), her performance style moved more deeply into the kind of "blue eyes blues" that recall Tracy Nelson. (If that reference eludes you, do yourself a favor and google/YouTube her name; you won't be sorry.)
In her nerviest moment of the night, she took on "Spring Can Really Hang You Up the Most" (Tommy Wolf, Fran Landesman) while only three feet away from one of the most accomplished interpreters of Landesman songs on the planet; perhaps inspired by Conklin's proximity, she dug in and made the song her own in an insistent arrangement beholden to no previous incarnation. Other highlights included a searing "Whipping Post" (Gregg Allman) and a McCann original called "Used Up on the Street."
Since none of these songs really connected to a theme or through-line, the show was more a concert (albeit an enjoyable one). At one point, McCann fell victim to a conceit that is showing up more and more in cabaret lately: a meandering, seemingly endless medley with the briefest snippets of seemingly dozens of songs, including just enough of each to spur recognition in the audience before changing to the next song; it came across as an empty, frustrating exercise.
Worse were a few self-penned parodies. Her attempts at humorously resetting well-known songs were mainly unfunny and/or lame. I wanted to hear this obviously talented singer get inside her material and deliver heartfelt emotion and drama to the audience, as she did in a surprising pairing of "Cry Me a River" (Arthur Hamilton) and "Doctor My Eyes" (Jackson Browne), but too often she proved her own worst enemy and got in the way of what could have been an even more enjoyable evening.
Music Lessons
Pangea – June 27
Category: Reviews