"My Broadway – 100 Years of the Great White Way"
Metropolitan Room  –  March 2, June 16, November 23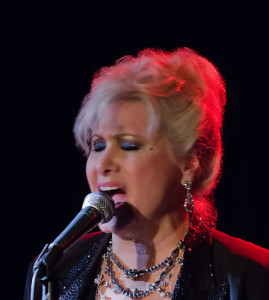 It's hard to find the right superlative for Jillian Laurain, a class act whose talent runs as deep and wide as a mighty river. Here is a woman who trained and worked as an opera singer early in her career and then moved on to roles on the musical theatre stage as well as taking on two of the biggest acting assignments in the American repertoire, Blanche DuBois in A Streetcar Ñamed Desire and Martha in Who's Afraid of Virginia Woolf?
Her singing is almost without peer and her acting has great power. And yet somehow, in the intimacy of a cabaret room, she is completely accessible, able to have a neighborly rapport with her audience. Laurain is the kind of woman you want to have a couple of drinks with after the show, no matter what your persuasion. She has a little sass and plenty of sex appeal, but she could also be your best friend.
In her latest show, she ambitiously takes on about one hundred years of Broadway (more accurately, from the 1920s to the 1990s), which allows her to display a tremendous range of musical styles, emotions, and characters. After opening with the apt "Broadway Baby" (Stephen Sondheim) from 1971's Follies, the show is presented in mostly chronological order. Early on, "Fascinating Rhythm" (George & Ira Gershwin), done with a varied tempo, displays Laurain's showbiz flair—she can strike a theatrical, divaesque pose, but it's never too much and there is never a wasted gesture. She begins "Can't Help Lovin' Dat Man" (Jerome Kern, Oscar Hammerstein II) a cappella, languidly, as a woman comfortable with her situation, but when she comes back a second time to the words, "He can come home as late as can be," she expresses full-bodied passion, an unstoppable force that her man won't be able to escape when he walks through the door.
I'm not sure I've ever heard anyone invest so much in the story of "Johnny One Note" (Rodgers & Hart), a song that many singers toss off for an easy laugh. Laurain is at her very best when called to show the deepest extremes of emotion, so her reading of "So in Love" (Cole Porter) is also fully realized. Also, the simple declarative nature of "Somewhere" (Leonard Bernstein, Stephen Sondheim) allows her to "just sing" and in so doing, she makes it as moving as it was meant to be.
Laurain shifts gears a bit in the more modern pieces. As glorious as those operatic tones are, with Kander & Ebb's "All That Jazz", she shrugs off that vibrato as easily as she might have shrugged a boa off her shoulders, and she reaches into her commanding chest voice. It is slow and sultry, building to a showstopper. "At the Ballet" (Marvin Hamlisch, Edward Kleban) is an acting tour de force—by the time she gets to the last line, "I was pretty, I was happy…at the ballet," it is almost as if she were looking in a mirror and no longer believed it. Devastating.
Musical director Barry Levitt is masterful with this material, as is Marco Panascia on bass and drummer Ed Ornowski, who has a few memorable solo turns. Levitt's arrangements give dramatic lift to everything Laurain does. To execute such a range of great material from the 20th Century is no easy task, and the trio is marvelous.
If I have any quibble with the show, it would be this: the task of presenting one hundred years of Broadway allows Laurain to make only passing, mostly generic comments about the shows and composers. Because she is so invested in the songs, perhaps she could sing a few songs in a row without a break, which would allow her some room to perhaps tell a more detailed, colorful story about a couple of her favorites. Also, because it is chronological, she ends with "I'll Forget You" (Frank Wildhorn, Nan Knighton) from The Scarlet Pimpernel and "With One Look" (Andrew Lloyd Webber, Don Black, Christopher Hampton, Amy Powers) from Sunset Boulevard. Again, she gives them her all (she even costumed up for Norma Desmond), but that material just doesn't compare to her other selections, so the ending isn't as strong as it could have been—although she encored with Puccini's "Doretta's Aria" in Italian, a nice touch. (If she wanted something even more modern, I'd suggest she look at Next to Normal—definitely some dramatic and vocal fireworks she could tear into.)
I couldn't help observing that most of Laurain's audience was made up of, well, people of a certain age, and they loved it. However, Jillian Laurain is the kind of performer that the waves of young actors and actresses new to our city should be coming to see, to learn from a master. I have no idea why she hasn't been discovered by Broadway producers yet, but this show demonstrates that she's still very much in the game.
Category: Reviews