The Duplex  –  May 30, June 19, August 28, then monthly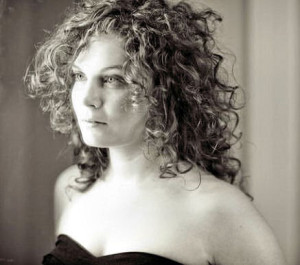 In her latest offering, an untitled show at The Duplex, sly and subversive songbird Danielle Grabianowski ignores the "rules" of cabaret (and gently pokes fun at them in her patter). Opening with a humorous French ditty, "Sympathique" (by Pink Martini's China Forbes and Thomas Lauderdale), she provokes laughs without the usual wind-up of a big opening number or a song with a positive message. In the midst of the song, she speaks the English translation in a matter-of-fact way: "I don't want to work/I don't want to lunch/I only want to forget and so I smoke." Her delivery adds much humor to her voicing of the character's world-weariness.
By way of welcome the evening I attended, she told the audience that the show would have no theme—and also that she wanted to reveal her vulnerability right off the bat: "If this dress comes open, somebody please tell me," she said, noting that at the last minute a bobby pin or the like had to be used to hold the dress together near the cleavage.
Grabianowski is one of the most talented newcomers to hit the scene in the last few years, at times evoking Billie Holliday or Norah Jones, but with her pop and blues sensibilities and a telltale flutter in her voice, she has her own unique sound. Although at times she resembles a young, daffy Lesley Ann Warren, she uses that persona to great effect while constantly surprising us with her smarts—her song choices, her interpretative abilities, and her slightly twisted take on life.
In fact, although she claims the show has no theme, her choices suggest a bit of the '60s folk singer spirit in her. Her marvelous rendering of "People Are People" (Martin Gore), slowed down from the dancey Depeche Mode version from the '80s, segues very nicely into one of the best versions I've heard of Rodgers and Hammerstein's "You've Got to Be Carefully Taught." While her vocal delivery is lovely but not often showy, her precision with the lyric, combined with the mien and manner of a wise teacher, makes for strong, irrefutable statements. Another unusual, smart choice in the folk-message vein is "Two Kids" (Anais Mitchell). Told from the perspective of a child living in the Middle East trying to understand the hatred her father told her about, the lyric closes with the observation, "I saw this kid looking out from the window/ he didn't look bad, he only looked scared." Powerful stuff, made even more so by Grabianowski's child-like demeanor and her inclusion of an Arabic poem that was given to Mitchell by the poet. Not something you hear every day.
She also offers selections of a less serious nature. A brilliant, minor-key arrangement of "You're the One That I Want" (John Farrar, from the film version of Grease) shows us her sultry side. A mash-up of Oscar Levant, Billy Rose, and Mort Dixon's "If You Want the Rainbow (You Must Have the Rain)," from 1928, and the Rihanna hit "Umbrella" (The Dream, Jay‑Z, Kuk Harrell, Christopher "Tricky" Stewart) works very well and is Grabianowski's sunniest offering. She closes with "Bumble Bee" (Memphis Minnie), the closest she comes to a wailing blues number; her sweet disposition and the sexy double entendres in the song make an intoxicating mix.
Overall, Grabianowski's talent enables her to pull off an evening of fairly obscure material, nearly all of it ballads. And although her considerable charm is ingratiating, a bit more structure to the show would make the endeavor better still. She seems very comfortable in her own skin, but I'd like to see her reach for some bigger moments—and by that I mean patter as well as song moments.
Musical director/pianist Nate Buccieri is swell, and he's an amiable good sport to Grabianowski's understated, playful commentary. His arrangements are terrific. What's more, he supplies vocal harmonies, performs a bit of hand drumming on the edge of the piano, and even delivers a vocal turn of his own.
Grabianowski's singular sound and interpretive skills cry out for a recording. I hope someone hears her and can facilitate such a project soon.
Category: Reviews