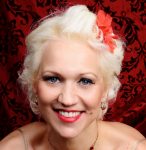 Swedish multi-instrumentalist and singer Gunhild Carling works fast, as though she were chasing the tail of some devilish swing-beast and excited as a scrappy kid to catch it. Her joy and attack on stage are absolutely infectious, and her recent set at Birdland Theater was a wild ride. The thread through the evening was a tribute to Louis Armstrong and Ella Fitzgerald. From the banter, it appeared that pianist-singer and deadpan comic foil Billy Stritch had at some point suggested a theme just to keep the train on the tracks because Carling humorously reminded herself of the theme, out loud, several times. With Michael O'Brien on bass contributing several particularly great solos, and Daniel Glass setting the pace on drums, the band was excellent—and they kept their eyes and ears on Carling as if fascinated to see what might come next.
Musically based in New Orleans jazz from the 1920s forward, Carling is a member of a multi-generation jazz family and has been playing since she was a kid. She works in vintage costume, evoking classic comic blondes from Mae West to Rose Marie. The kitsch and spectacle were so good-hearted and sincere that they didn't detract from the fact that she's a fabulous musician—and she really is, no matter what instrument she picks up. The second number of the night, "Undecided" (Sid Robin, Charlie Shavers), was done as an instrumental, and Carling's work on trombone was articulate, nuanced, and gutsy. It's her standout instrument, and throughout the night, trombone solos—including on Ain't Misbehavin' (Fats Waller, Harry Brooks, Andy Razaf)—were full of authentic, hot-jazz growly stylings. She took a moment to demonstrate the styles of some of her trombone influences, among them: Armstrong's teacher, bandleader King Oliver, who later switched to cornet; Kid Ory, the king of tailgate trombone; and for the big-band fans, some very distinctive, liquid Tommy Dorsey.
As a singer, Carling has a bright sound and insightful phrasing, and she played fast and loose with lyrics, much as Armstrong did. "Dream a Little Dream of Me" (Fabian Andre, Wilbur Schwandt, Gus Kahn) had beautiful legato control, and accompanying herself on piano, a trio of short songs from the '20s—among them "My Monday Date" (Sid Robin, Earl Hines)—was intimate and memorable. Her version of "Mack the Knife" (Kurt Weill, Bertolt Brecht) in German was also excellent, with the contribution of a satisfyingly menacing, measured tempo established by Stritch.
But that's not all. Her trumpet playing throughout was on-point, with solos in such songs as Irving Berlin's "Cheek to Cheek" (Irving Berlin) making it clear that she has a note-for-note reference for many of Louis Armstrong's famous recordings. And if you've never heard Carlos Jobim played on soprano recorder, you should have been there to hear her version of "Wave" and noticed yourself wondering why no one had had the good sense to try it before. And for the win, Carling pulled out a set of bagpipes and basically broke open W.C. Handy's classic "St. Louis Blues," making the instrument sound like the love-child of the tenor sax and the harmonica, and born for the blues. She played harmonica too, of course. And she's a pretty good tap dancer. And she can play three trumpets at the same time, which she did in her encore. Any one of these skills might have been enough; showing us all of them was an expression of Carling's insatiable appetite for playing and sharing this music. Make sure you catch her next time she's in town—it's not very often you'll be invited to a show that ends in an impromptu New Orleans-style second line parade kindled by a Swedish trombone virtuoso.
Birdland Theater – August 16-18
Category: Reviews