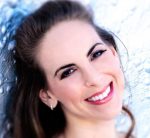 In her most recent offering, award-winning vocalist Dawn Derow displayed plenty of onstage charisma and a solid legit soprano. The show, The House That Built Me, was based on her family history during her early and adolescent years.
As presented, Derow's childhood with hardworking parents was a fortunate one. Stories of growing up valuing family and home are well-suited to the storytelling of country and singer-songwriter pop, and her first few song choices expressed her salt-of-the-earth beginnings. "The House That Built Me" (Tom Douglas, Allen Shamblin) provided the title of the show, and the medley of two songs titled "Our House"—one by Graham Nash, the other by Chris Foreman and Carl Smyth—had an innovative arrangement by bassist Steve Doyle. The evening also featured Musical Director Matt Baker on piano and Peter Calo on guitar. The beautiful "Old Cape Cod" (Claire Rothrock, Milton Yakus, Allan Jeffrey) ended with an easy floating sound that was a lovely, sea-breeze-feeling, vocal moment.
Derow has bel canto training and she brought a respectable classical sound to "O mio babbino caro" and "Che il bel sogno di Doretta" (both Puccini). She frequently performs operatic arias in cabaret, but in this case the opera selections, with their completely different "size" of performance designed for a much larger room, took us out of the story. Contrasting Puccini with a confident, Rosemary Clooney-inspired "Mambo Italiano" (Bob Merill) as an example of highbrow versus lowbrow Italian culture felt pushed, and the comedy in a related bit where Derow came out into the audience collecting money didn't quite land.
Singing a medley from her Dad's musical theatre record collection was an enjoyable addition, bringing out a few chestnuts and satisfyingly switching musical theatre styles. Reminiscent of The Man in the Chair from The Drowsy Chaperone, Derow pointed to her favorite albums with genuine excitement and had a tongue-in-cheek way of positioning those beloved—but now a little sexist or dated—songs. Frank Loesser's "Happy to Keep His Dinner Warm" worked especially well, followed by an articulate, punchy rendition of Sondheim's "The Miller's Son."
In connection with "Make Your Own Party" (Zina Goldrich, Marcy Heisler), Derow told a lighthearted story about planning her wild 18th birthday celebration with her friends. The story took a turn when she inadvertently did something that really hurt her father—then the patter moved quickly on to an airy wrap-up. Director Jeff Harnar and Derow could have considered making this hurt a turning point in the show—a moment packed with meaning; it could either mark the beginning of adulthood, when she could differentiate herself from her family, or maybe a dawning awareness of how much love and work her parents had put into building their lives together. The story of her childhood was painted in pastels; more contrast—such as an edge to the humor or the inclusion of other difficult episodes like the one above—would add variations in texture that might make her sentimental journey connect better with the jaded among us.
The House That Built Me
Laurie Beechman Theatre – June 16, 26
Category: Reviews