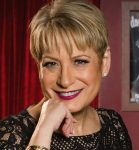 After a decade away from cabaret performing, Goldie Dver returns to the stage in an energetic and polished show called Back in Mama's Arms (directed by James Beaman). The "Mama" in question is, of course, the venue at which the show takes place: Don't Tell Mama. At one point in the set, Dver points out that many of the Manhattan clubs at which she previously performed are now kaput. Clearly, she appreciates having a reliable and welcoming place to come home to.
She gets the evening popping with a big, busy, buzzing medley that includes Edward Kleban's "Self Portrait," Maltby and Shire's "Today Is the First Day of the Rest of My Life," and Jerry Herman's "It's Today." The three melodies weave in and out of one another, creating a kaleidoscopic, nearly vertiginous effect. The highly responsive audience ate it up.
In this number and throughout the show, Dver puts her penchant for razzmatazz on display. She blends the madcap frenetic quality one finds in a Minnelli, the jazz-baby playfulness of a Channing, and the Streisand-like tendency to alter the contours of a song to give them a personally sculpted quality. She has a powerful belter's voice, and it gets a brisk workout.
Dver reveals that most songs in the show have new arrangements by her musical director and pianist, Bill Zeffiro (she also sings a song that he wrote). One exception is Leslie Bricusse's "Talk to the Animals," which was part of the Bricusse tribute show, Crazy World, she and Beaman performed in 2001. She begins singing it in a kind of sultry, low-down mode, accompanied only by the plucking of talented bassist John Miller. Several measures in, Zeffiro and drummer Grant MacAvoy join in the rousing, fun-filled number. Dver savors all the delicious wordplay in Bricusse's zoological list song, clearly having a ball.
During the years in which she was away from cabaret, Dver lost her husband, songwriter Paul Dver. She shares with the audience this sad part of her life, and also pays tribute to him by talking about his life and talent—and by singing two numbers that he wrote or co-wrote. Early on, she gives us the composition that made her fall for him in the first place: the affecting "Someone." Later she performs another "gift" from him, "One Again" (co-written with Hal Hackady).
Several of her selections—ballads as well as up-tempo selections—are big, splashy numbers, like the aforementioned opening medley. She gives us a sassy "I Got the Sun in the Morning" (Irving Berlin) and another ambitious mega-medley, this one about the ways in which New York has changed over the years (including the previously mentioned closing of all those once-vibrant cabaret rooms). This medley veers about frantically and doesn't quite land. Among the songs heard in it is Joni Mitchell's "Big Yellow Taxi," which doesn't entirely work for the occasion. (Manhattan, to many people, was a "paved" paradise long before they put up a parking lot.)
Some of the best numbers in the show are the ones in which Dver brings things down a notch, lets her guard down, and communicates more directly with her listeners. These include "Becoming My Mother" (Brian Lasser, Gary Gardner) and "Where Do You Start?" (Johnny Mandel, Alan & Marilyn Bergman).
My personal favorite was her take on Armando Manzanero and Sid Wayne's "It's Impossible." She introduces it by telling about having made a 45rpm recording when she was a teenager. The "B" side of the disc was a cover of "The Impossible Dream (the Quest)" (Mitch Leigh, Joe Darion). She shares several bars of this recording and then sings along with it. At some point, the recording trails off and the performance cleverly morphs into "It's Impossible." She sings it simply, to a gentle, samba-like arrangement. It's warm and open-hearted, and it shows her soft and tender side effectively.
I hope next time we hear her, we'll get a larger share of such quiet, intimate songs, as they provide welcome contrast with her flamboyant and fiery numbers.
Back in Mama's Arms
Don't Tell Mama  –  June 19, 23, 26, September 15, 21, October 5
Category: Reviews