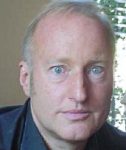 The art of political song parody has been reinvigorated in the era of Donald Trump. You can find this in the online videos of the clever, intrepidly campy Randy Rainbow, also famed for his spoof interviews. A less-visible practitioner of the genre—at least until now—has been Joe Keenan, formerly a writer and producer on TV's Frasier and the author of three madcap comic novels: Putting on the Ritz, Blue Heaven, and My Lucky Star. Until recently, you would have had to go to social media to find Keenan's scrumptiously wicked jabs at the president and his inner circle. (I've read scads of them, thanks to Twitter.) But with Everybody Rise: A Resistance Cabaret (which premiered in California, but was recently performed in Manhattan as part of the Broadway at Birdland series), fans of Keenan were able at last to hear his parodies, sung by talented cabaret and musical theatre performers. The tongue-in-cheek premise of the show—introduced at the top of the performance—was that there's no mightier tool for combatting political misbehavior than parodies of show tunes. Would that that were not quite so far-fetched.
The central performer of the evening was Michael Kostroff as POTUS 45 himself—decked out with requisite too-long red necktie and topped with an unwieldy noodle-in-a-haystack wig. The talented Kostroff's Trump was, not surprisingly, lavish in his praise of self. He informed us at the top of the evening that this show was "the most largely attended" cabaret revue in history, adding, "I wrote all the songs you're gonna hear tonight, with no help and no collusion."
A core ensemble of four performers—John Bolton (the stage performer, not the National Security Advisor), Taylor Crousore, Kristen Mengelkoch, and Christine Pedi—supported Kostroff in solos, duets, and group numbers, including the ambitious "Trump World Medley," which offered comic glimpses of such past and current figures from the president's inner sanctum as Mike Pence, Rudy Giuliani, Kellyanne Conway, Omarosa Manigault, and Lindsey Graham. [This was the lineup for the June 3 show; the cast for the April 1 edition was somewhat different.]
Some of the show's comic glow emanated from Keenan's ability to find just the right lyric with which to skewer a particular individual. In some instances, the matchups were no-brainers—transforming "Oklahoma!" into "Omarosa!" for instance, or The Music Man's "Gary, Indiana" into "Rudy Giuliani." But other lyrical gambits depended on Keenan's audacious and whimsy-filled yet steadfastly ordered mind. Take, for instance, his song "Lindsey Graham," set to the music of Gypsy's "Little Lamb" (and sung by Mengelkoch, with the aid of a sock puppet reminiscent of Shari Lewis's old chum Lamb Chop). Not surprisingly, the lyrics were boisterously clever, but what really steered the song was its recognition of Graham's purported ovine qualities: his post-2016 transformation from lost and lonely anti-Trump lamb into easily herded sheep, bleating contentedly among the pro-Trump flock.
Keenan is an exacting lyricist. He insists on finding precise rhymes and in maintaining all the complex inner rhyming within the song being parodied. His insistence on making every syllable just right gives his parodies richness and a sense of inevitability. His success with the songs of master lyricist Stephen Sondheim, especially, is a measure of his skill at buffing lyrics to a patent-leather shine. At one point in the show, that shine was almost blinding. This was a take-off on Follies' "The God-You-Better-Love-Me Blues" aimed at Trump crony Roger Stone—which followed Sondheim's template so carefully and wittily that I wished I'd had the lyrics in front of me to follow along with, so as not to miss a syllable. One sample witticism: "I don't like what infamy has in for me now." (Fortunately, the singers did have lyrics available before them—ordinarily something one hopes can be avoided, but necessary here because of all the big mouthfuls of words in these songs, some of which, it would seem, need to be emended periodically as events unfold in the real world.)
Certain news-related content is so dark that parodies can run the risk of lapsing into bad taste. But Keenan is cautious about this, modulating his approach, when necessary, in order to come off more meditative than uproarious. This was evident in the song "Thoughts and Prayers," which dealt with the tepid response of authorities to mass school shootings. Setting his lyrics to "Edelweiss" from The Sound of Music—a bittersweet and sentiment-laden song from a show about escaping a hostile autocratic regime—made the number especially pointed. It's a sad and bitter spoof— witty, yes, but not funny. It struck just the right tone.
All members of the ensemble had moments in the spotlight. I particularly enjoyed Pedi in "Click," a twist on Pal Joey's "Zip" that focused not on the Trump crew but on an ordinary American at her computer, trying vainly to find respite from politics by focusing on theatre gossip and cute-animal videos. Pedi also performed with Kostroff and Mengelkoch in a number that proved a big crowd favorite: a sendup of Cabaret's "Mein Herr" transformed into commentary on Trump's tonsorial aberrations.
Two celebrated guest stars delivered enjoyable solo turns at the performance I attended. Liz Callaway enthusiastically lampooned Secretary of Education Betsy DeVos in a bit called "Betsy Get Your Gun." And Keenan's former Frasier associate Bebe Neuwirth sang the thoughtful "F***s," an original song (with music by Brad Ross) about facts, rules and shame (or the lack thereof) in today's political discourse.
An essential player—in multiple senses—in the show's success was musical director and pianist Matthew Martin Ward, who was called on to perform ln a wide array of moods and styles. He did so, smoothly and robustly.
Birdland  –  April 1, June 3
Category: Reviews