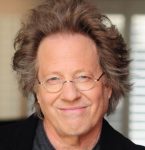 There is a particular pleasure to be had in listening to good pop songs sung by their creators. Whether it's Jimmy Webb or Sheldon Harnick or Paul Williams or Harold Arlen, there's a palpable connection to the material, obviously, but there's also a more gentle, conversational delivery of both lyric and melody that sets each one apart from the "hit" that it became in the hands of others. An unexpected turn of phrase, a simplification of a melodic riff, a pause here and there can make an audience hear the songs in a different way. 2018 Songwriters Hall of Fame inductee Steve Dorff's show at The Triad was filled with such moments. While some of the audience may not have been familiar with the writer, song after song registered with delighted recognition
He opened with Anne Murray's 1979 hit "I Just Fall in Love Again" (music co-written with Larry Herbstritt, lyric by Gloria Sklerov and Harry Lloyd) as sadly romantic in Dorff's rough lower register as when the song was first heard on the radio, and when he ascended to a fragile but nonetheless effective falsetto, it was a beautifully affecting moment. Introducing songs with brief vignettes from his life in the music industry and "inside scoops" on the songs, Dorff seemed as delighted to share them as the audience was to hear them. He revealed that "I Cross My Heart" (lyric by Eric Kaz) was originally recorded by Bette Midler, who then passed on it, only for it to become a hit for George Strait eight years later in the movie Pure Country and to be named the "ninth greatest country love song of all time." Whitney Houston, Barbra Streisand, Kenny Rogers, and Garth Brooks all made appearances in his easygoing patter and provided him with a running gag of how he sounded like all of these stars, so we were in for a treat.
There was the inevitable medley of movie and television themes, ending with the hit theme from Growing Pains, "As Long As We Got Each Other" (John Bettis); it was a most impressive overview of his work in Hollywood. There was also an inevitable guest star—in this instance, Japanese singer Maiko Horisawa, who did a stunning version of the title track of her Dorff-produced album, Kindred Spirits (Marybeth Derry). Apparently, she has been called Japan's answer to Sarah Brightman, but that does not do her justice. Her open, innocent passion for the lyric and her gossamer presentation of the music were exquisite; while her halting English was charming, these qualities were especially evident when she sang in her native language.
One doesn't usually go to an evening like this expecting a through-line or emotional journey, but they were there: a beautifully, deceptively simple program of songs that led to a powerfully emotional climax—a trilogy of songs beginning with Streisand's "Higher Ground" (George Green, Kent Agee), moving to Kenny Rogers's "Through the Years" (Marty Panzer), and then to the stunning discovery of a song that has never been recorded, "Face to Face" (Eric Kaz), about the search for closure after the abrupt end of a relationship. This lyric handled this situation in a way I had not seen in other songs, and the painful beauty of the melody has haunted me since I saw the show. At the end of the evening, it was easy to see why Steve Dorff titled his autobiography I Wrote That One, Too. I would gladly have stayed for a dozen or so more.
An Evening with Steve Dorff: The Hit Songs and the Stories Behind Them
The Triad – June 11
Category: Reviews