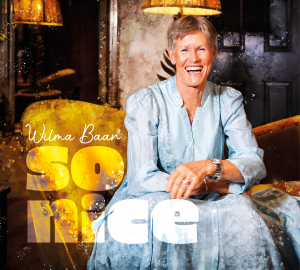 Wilma Baan's new CD, So Nice, arrives just in time to combat the dog days of summer.  This tasteful grouping of standards from the vocal jazz repertoire is a low-key, savvy, delightful refreshment, almost able to conjure breezes where there are none.  The singer is assured and comfortable in her surroundings—nothing to prove, nothing to show off, just honest and wonderfully musical singing.  The album is immaculately produced by Chris Traves and jazz great Claire Martin, who both contribute percussion when it's called for over and above Josh Morrison's invaluable drums.
"So Nice (Summer Samba)" (Marcos Valle, Norman Gimbel) is the perfect welcome. Baan's smoothly smokey vocals float atop the gentle nostalgia of Graham Harvey's Fender Rhodes and the insinuating guitar of Dave Chamberlain.  Harvey switches to piano for "Social Call" (Gigi Gryce, Jon Hendricks) leading the vocalist into a swinging, personal take on the Betty Carter classic. "Close Enough for Love" (Johnny Mandel, Paul Williams) has a captivating film noir feel appropriate for the theme from the mystery film, Agatha—the singer's deep descent into the darkly romantic lyrics is matched by a haunting trombone solo by producer Traves.  A uniquely individual presentation of the rarely done verse sets apart "Do Nothing Till You Hear from Me" (Duke Ellington, Bob Russell) and then blossoms into a surprisingly bluesy arrangement intensified by Chamberlain's guitar.
I didn't realize how much I missed "Better Than Anything" (David Wheat, Bill Loughborough) until I got swept up in the sparkling arrangement served up here with Baan absolutely reveling in the dizzying lyrics. Harvey's assured piano work drives a bristling instrumental break in tandem with the infectious percussion.  "The Folks Who Live on the Hill" (Jerome Kern, Oscar Hammerstein II) overflows with sheer romance in the singer's understated yet still moving interpretation.  You can feel that a life is being lived as you listen and get lost in the imagery.
Whatever sexy innuendo and flirtatious teasing that "Teach Me Tonight" (Gene de Paul, Sammy Cahn) may have, has pretty much been wrung out of it by this point after so many performances and recordings.  The singer and the band maneuver the song decently enough, but her approach offers nothing distinct from her predecessors.  How many lesser-known songs might have filled this spot in a more special way.  "Day by Day" (Alex Stordahl, Paul Weston, Sammy Cahn) succeeds in bringing me right back on to "her side" as the voice/piano opening grows into a lovely samba feel, with guitar at the fore of Harvey's terrific arrangement. The uptempo arrangement of "The End of a Love Affair" (Edward C. Reilly) works quite well but I can't help wishing that she had gone to the darker recesses of the lyrics and melody and given us a take that is not quite so sunny. 
With "Where Do You Start" (Johnny Mandel, Marilyn & Alan Bergman), Baan takes the time to dig into the narrative—treating the lyrics in a simple, strong conversational style—and turns it into a dramatic monologue of contemporary heartbreak. Her partnering with Harvey on piano is especially touching; my heart caught at her realization, "Well, I guess you try."  The singer's most assured vocals pair with the CD's best arrangement on "I Didn't Know What Time It Was" (Richard Rodgers, Lorenz Hart), a track bubbling with scintillating sophistication.  Unfortunately, the album closes with the most overused, obvious, and overblown closer of the 21st century, "Here's to Life" (Artie Butler, Phyllis Molinary). It is one of my least favorite songs.  It is just too "on the money" and offers little chance for nuance or surprise: a singer is forced to sing the subtext of what might have been a different, and better, song. While this version is perfectly acceptable, it does not change my opinion of the lugubrious hopefulness of it all.  
In a strict vocal competition, Wilma Baan would not win a prize for range or strength, but the more one listens to singers, the more one realizes that those are the least important elements of a good singer.  If there were a contest based on intelligence, wit, phrasing, thoughtfulness, time and attention to lyric detail, then Wilma Baan would score high marks indeed.  So Nice is a fine introduction to her talents.  Pour yourself a cooling libation and give a listen.
Category: News / Reviews / Commentary, Reviews