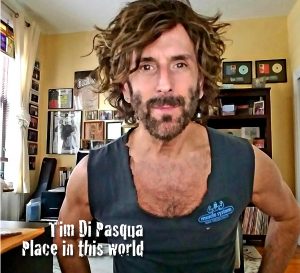 Tim Di Pasqua's new CD, Place In This World, is a collection of 12 originals that show off his way with word and melody.  Filled with a veritable bouquet of styles and genres, the album opens with an infectious uptempo declaration of missing a good friend, Tokyo, in which the story is wonderfully specific but the message is universal enough that anyone can identify with it.  I always like it when a songwriter tells a story or makes a statement that's different from what has come before and there are a number of instances on this recording.
To Get Me to Be Your Boyfriend is a response to someone who is more interested in having a boyfriend than in who that boyfriend might be.  I've never heard it expressed in quite this way.  Gravity has a nice, unforced mix of rock and bossa, backing the by-now expectedly inventive lyrics.
I Kissed Your Husband has another uniquely Di Pasqua tale to tell …. "Maybe you're still cranky that I kissed your husband years before you did" shows where the story is bound. After establishing the narrative, the singer descends into a bit of bragging and a bit of putting the spouse in their place in the guise of questioning how they feel about it that drips with mock concern.  It's a fun moment.  This is followed by You Make Me Nuts, filled with so much '60s pop confection that it all but guarantees a smile if not outright laughter.  A Man and a Man involves gay politics, but with no marches, no demonstrations, no riots; just a common sense consideration of the difficulties that life in these United States still holds for a gay couple that their straight counterparts will never experience or even consider.  
The Situation reveals how difficult it is to retain the view that one can do anything about the circumstances of one's lives and how overwhelming that feeling of socio-political impotence can be. He closes his album with Place in This World, a sort of prayer, which most of us can identify with; it has some of his most moving and telling lyrics tied to a stirring melody.  This should become a cabaret and club standard in short order.
The songs that are here are terrific, but hearing these 12 back to back, they began to feel overwritten.  The lyrics are tightly spaced and fill pretty much every moment of every song with no breathing room.  There's nothing wrong with any song in particular, but there is a lack of structural variety.  A few sparsely written ballads with simple stories or monologues and simpler melodies would be a pleasing contrast to what is there already. It would also provide the singer with a different platform upon which to work his magic. 
This is the only reservation I have about this beautifully written, performed, and produced recording.  The backing musicians include many with whom Di Pasqua has worked in cabarets and clubs around town and on previous CDs of his own and other singers.  Matt Scharfglass on electric guitar and bass, Kevin Jasper on drums and keyboards, Monroe Quinn and Aki Ishiguro on acoustic and electric guitar, and Chip Fabrizi on drums prove invaluable members of the ensemble. 
Place In This World is the latest step in the career of a singer/songwriter worthy of all the support and adulation he may get for his consistently fine musical offerings.  Tim Di Pasqua not only delivers the goods but leaves the promise of even better things to come.
Category: News