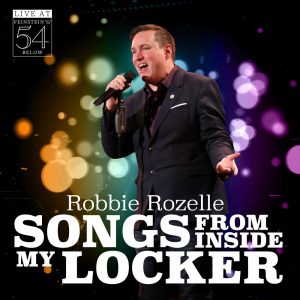 Robbie Rozelle's new album, Songs From Inside My Locker, captures his more recent show at Feinstein's/54 Below.  While there are some good ideas and a few good numbers to be heard, the singing rarely rises above that of a decent piano bar performance and can't sustain the length of the recording.  
As with most new cabaret performers, there is too much crudity and not enough wit in the patter.  It is not the most inviting nor the most witty opening to say "Let's just do this sh*t…" and, yet, there it is leading into his second number, "If I Only Had a Brain" (Harold Arlen, E.Y. Harburg).  On this song,  his sweet, unforced delivery is somewhat undone by sustained notes that tend to get shaky rather than assured.  This happens throughout the show.  On a villain medley of "Little Girls" (Charles Strouse, Martin Charnin from Annie) and "Captain Hook's Tango" (Jule Styne, Adolph Green, Betty Comden from Peter Pan), his weak phrasing and weaker accent lose laughs throughout. 
In a "My two dads…" section dedicated to Charles Nelson Reilly and Paul Lynde, a medley of their signature songs is riddled with pitch and time problems.  Broadway's Bonnie Milligan and Maya Days join Rozelle for Aida's "A Step Too Far" (Elton John, Tim Rice), but when he tries to join in on their diva belting the result is disastrous. 
As the show swings into its finish, things improve considerably.  The decibel level lowers, the commitment to the lyric and the personal storytelling increase.  If he actually accepted his vocal limitations and picked material and arrangements accordingly, he'd have the potential of a much more successful performance.  William Finn's "I Have Found" is thoughtful, understated, and moving.  This newfound delivery continues in an eleven o'clock medley of "Tomorrow" (Strouse, Charnin from Annie) and The Beatles' "Here Comes the Sun" (George Harrison).  Unfortunately, the final two numbers are back to being forced and too big for him, especially "Jam Tomorrow" (Steve Allen), a tribute to Carol Channing that includes an unfortunate impression of the leading lady.  
The audience on the recording seems to respond to the show more favorably than I, so perhaps Robbie Rozelle comes across better live than on recording.  But on its own merits, the album is disappointing.
Category: News / Reviews / Commentary