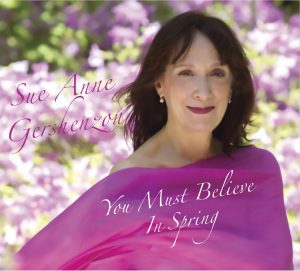 Rosemary Clooney famously said, "I am not a jazz singer. I am a singer who sings jazz songs."  On her new album, You Must Believe In Spring, Sue Anne Gershenzon has chosen a program of songs of the highest quality – there's not a bad song among them.  Unfortunately, in her execution of them, she does not always reach such a high level.  
When I am teaching a class I stress to my students that there is a difference between liking to listen to a song and needing to sing it. I have no doubt that Gershenzon feels strongly about each song but that does not mean she should have chosen to sing it; her delivery is uneven throughout.  
When a number calls for swing, she's game to try but rarely gets it in the pocket.  I got the feeling that her band (music director Glafkos Kontemeniotis, with brass and string sections) is holding itself back deliberately not letting go the way they might when working with a singer they were not concerned about leaving in the dust.  Dave Meade on drums is featured throughout, and when it is just drums and voice the singer has a difficult time holding her own.  She needs the musical support. 
The album opens with the classic "I Thought About You" (Jimmy Van Heusen, Johnny Mercer) that would have benefited from an arrangement shaped around Gershenzon's strengths rather than its own swinging style with which the singer must struggle.  Immediately bouncing back from the unfortunate opener is a gorgeous take on Stephen Sondheim's "With So Little to Be Sure Of," which combines her simple, legit, conversational delivery of the lyric with a gorgeously sustained melodic line. 
"So Many Stars" (Sergio Mendes, Alan and Marilyn Bergman) with its flowing Brazilian rhythms should be a perfect fit, but instead of relaxing into the breezy feel, the arrangement gives it a harder sound, forcing her to push too hard when she should be floating over the melody.  
Often when a female vocalist comes from the world of theatre, especially when they are a soprano in that world, they tend to set their keys too high. It wasn't until the singer relaxed and dove into the lower key of "'Deed I Do" (Walter Hirsch, Fred Rose) that I realized a simple lowering of various keys throughout would have opened up the singer to much more success in her jazz excursions.  The strong, rich, and (yes) swinging style she displays on this song is an avenue very much worth further exploration.  Sadly, there is no lesson learned on this recording and "Straighten Up and Fly Right" (Nat King Cole, Irving Mills) and "East of the Sun" (Brooks Bowman) fall back into the swinging for their own sakes and undermining the singer's attempt to get into the songs.
The title song, "You Must Believe in Spring" (Michel Legrand, Alan and Marilyn Bergman) which closes the album and is a difficult song under any circumstance, might be a natural for Gershenzon but, once again, Kontemeniotis has come up with an arrangement that all but leaves the melody behind. While interesting in its own right, it leaves the singer adrift, unable to sustain the melodic structure on her own while her band explores the outer reaches of the music.  
Sue Ann Gershenzon at the best of times has a good voice and an interesting narrative style but to paraphrase Ms. Clooney's statement, she needs a band that plays jazz songs, not a jazz band.  Once she has that, worlds of song choices and performance styles should open up for her.
Category: News / Reviews / Commentary