An exquisitely soothing CD, Tania Grubbs Quintet: Live at Maureen's Jazz Cellar serves up delicious jazz—of the ilk that needs to be heard again and again.  The richly textured arrangements, created by vocalist Tania Grubbs and bassist Jeff Grubbs (her husband), are so wonderfully layered that they're only fully appreciated after multiple listenings.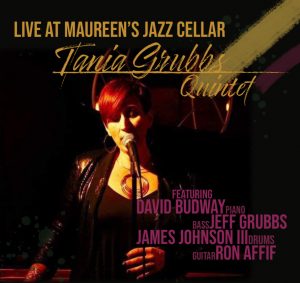 Despite the intricate goings-on among the five musicians—the Grubbses, plus guitarist Ron Affif, the fleet-fingered David Budway on piano, and James Johnson III on drums—the CD makes a unified emotional statement.  Its 12 distinct songs all exude a mellow, reflective mood.  Not the story-teller kind of singer cabaret fans might prefer, Grubbs doesn't take us on dramatically arced journeys with these songs.  Instead, she uses them to explore multitudinous shades of the same mood.  By the end we have a more well-rounded understanding of how it can feel to be calm, relaxed, at peace.    
A recording of a live performance at Maureen's Jazz Cellar (in Nyack, New York), the affecting CD is a tribute to the venue's namesake, the late Maureen Budway, who was the pianist's sister and a beloved figure on the jazz scene in Pittsburgh where Grubbs's quintet is based.  From the opener, an enjoyable interpretation of Billy Strayhorn's "A Flower is a Lovesome Thing," it's clear we're listening to a genuine jazz combo, not a group of instrumentalists backing up a singer.  The rippling piano and dance-y bass lines provide a terrific sense of movement, while Grubbs's enticing, easy-going voice functions as an equal instrument within the fivesome.  Though her superb band members outshine Grubbs on the second track as she plods through the staid vocal part in a propulsive arrangement of Leonard Cohen's signature "Bird on a Wire," she follows that with a shimmering rendition of Joni Mitchell's "Love," a great showpiece for Grubbs's agile voice and the effortlessness with which she moves between registers.  
The gentle mood of the CD quietens even more as a soft guitar passage launches the Horace Silver jazz standard "Peace."  While the guitar remains the leading voice throughout, for this song Grubbs imbues her golden singing with an ever-so-slight raspy quality that makes a fantastic aural complement to whispery sounds from the drummer's brushes.  The effect is extraordinarily calming, and continues with Grubbs's original composition, "Hope is a Thing with Feathers," a setting of an Emily Dickinson poem.  As in virtually all the arrangements, Grubbs's voice sounds slow, sustained notes, while instrumentalists race with lively fluidity and syncopated accents, surrounding her with reassuring layers of activity.  But in the next selection—a vocalese (the addition of words to an existing instrumental melody) of the popular Charlie Parker/Benny Harris bebop tune "Ornithology"—she punches out lots of syllables, rapidly and rhythmically, the band goes wild in their solos, and a brighter energy temporarily pervades. 
Returning to a contemplative mood, the next four tracks are stellar. The quintet brilliantly conveys the mesmerizing quality of the jazz piece "The Peacocks (A Timeless Place)" by Jimmy Rowles and Norma Winstone, particularly in passages where Grubbs's voice and the piano walk in parallel through the seductive chromatics of the song's stair-step-y, descending melodies.  
Then we are treated to an unusual interpretation of "Autumn" that musical theatre fans might find jarring, yet intriguing.  Featured in their 1976 Off-Broadway musical revue Starting Here, Starting Now, "Autumn" is the first song David Shire and Richard Maltby ever wrote together.  It evokes an eerie, engulfing sadness.  But here, it's sung at a faster clip, with a more rhythmic, accented delivery of the lyric.  Interestingly, these musical choices emphasize the disturbance caused—more than the emptiness left—by the departure of a loved one.  
Following an attractively sung performance of Neil Young's "Harvest Moon"—which represents the most successful of the CD's translation of folk and rock tunes into jazz arrangements—Grubbs offers an exemplary rendition of Stephen Sondheim's "I Remember" which was written for the 1966 television musical Evening Primrose.  The only arrangement on the disc that doesn't incorporate a break for instrumental solos, it masterfully captures the impressionistic quality of Sondheim's haunting lyric.  It starts a cappella, then the piano rolls in softly, followed by long bowed notes on the bass that lay a mournful foundation for Grubbs's astounding displays of breath control.  She holds her notes soooo… long, and then fades out soooo… gradually that we really can't perceive when she stops intoning.  And I would be remiss not to point out the timeliness of listening to this song right now.  The character who sings it in the musical hasn't been outdoors in 13 years and is recalling her memories of the outside world, the images, colors, movements, sounds, and tactile sensations that may also feel distant to us, like our own pre-pandemic reminiscences.   
After hearing the innovative take on "Autumn" and the fabulous interpretation of the Sondheim song, when it came time for the penultimate track, Jimmy Webb's "Wichita Lineman," I wanted, instead,  to hear the quintet do more musical theatre selections or standards, rather than a jazz arrangement of another country rock song which don't seem to provide enough fodder for Grubbs's interpretive  sensitivities
The CD closes with a bluesy arrangement of Henry Nemo's 1941 pop song "Don't Take Your Love From Me," featuring electrifying instrumental solos and some full-throttled singing by Grubbs that, ironically, proves less exciting than her expert wanderings through the soft soundscapes she so expressively mines throughout this sublime CD.        
Category: News / Reviews / Commentary