It is a singular pleasure to come across a new jazz release that honors the style and class of an old school album while offering a fresh and exhilarating selection of songs and a personal point of view.  That is exactly what Ever Since the World Ended from Lauren White and The Quinn Johnson Trio offers a grateful listener. Midway through the pandemic and its accompanying lockdown and quarantine, White felt the need to sing—just sing and get back to a semblance of the life that had so unexpectedly been snatched from her.  She wanted and needed to create music with musicians with whom she had worked many times before, so she assembled a group of talented friends and sang and played.  Although it was not a part of the original plan, out of that healing reunion an album grew. Perhaps not intentionally, but certainly inevitably, it was informed by the extraordinary circumstances imposed by a virus that refused to go away.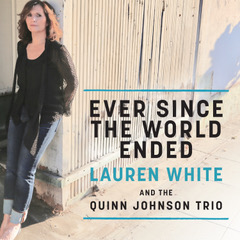 The CD conjures a dramatic, breezy, entirely winning response to the last year and a half.  No heavy concept here—just a gentle celebration of survival, a sad, lonely, and angry contemplation of loss, and a hopeful wish for a return to normalcy.  Her previous experience with her band and their natural camaraderie allowed them to speak as one.  Producer, arranger, pianist Quinn Johnson has worked with, among many others, Rod Stewart, Diana Ross, Diane Schuur, and Rita Coolidge; listening to his stellar work here it is easy to understand why. Bass player Trey Henry, who has played for such notables as Ray Charles and Linda Ronstadt, and Tierney Sutton, offers invaluable support.  Grammy-nominated drummer Ray Brinker is also in Tierney Sutton's band and here gives the CD a scintillating, elegant pulse.
The lively swing of "If You Never Fall in Love with Me" (Donald E. Wolf, Sam Jones) gets things off to a rousing start with White's rough-hewn, commanding vocal in the fore.  The R&B classic "Just the Two of Us" (Bill Withers, Ralph McDonald, William Salter) is transformed, forgoing its traditional rhythms for a moody dive into the romantic story revealed in the lyrics. Mose Allison's acerbic wisdom and low-down blues are given full rein in his "Ever Since the World Ended."  Its bristling intelligence is given a sizzling assist from singer Dolores Scozzesi. The sentiment of the lyric could not be timelier.  Similarly, the standard "Alone Together" (Arthur Schwartz, Howard Dietz) is given new life and vitality by current circumstances while remaining a moving ballad enhanced by the singer's deliberate and passionate delivery. On Bill Evans' beautiful "Remembering the Rain,"  White adds a childlike innocence to her worldly-wise sound to great effect.  Although it is an unreleased track from her previously released album, Life in the Modern World, it fits snugly into this repertoire and is, in fact, a highlight.  "Some of That Sunshine" (Christopher Caswell, Karrin Schoonover) and "Take Love Easy" (Duke Ellington, John LaTouche) offer irresistibly rhythmic advice on how to cope in 2021. The singer closes the recording with an emotional wallop, broadening the concern of Jimmy Webb's moving reaction to the death of John Lennon in "Shattered," into an elegy for all the losses COVID has inflicted.  
There is something both exciting and comforting listening to an album as assured and accomplished as Ever Since the World Ended.  Lauren White and the Quinn Johnson Trio have created an exciting, thoughtful and memorable addition to the growing list of pandemic responses.  
Category: News / Reviews / Commentary, Reviews