Repertoire for the Once and Future American Songbook
Article #21 in this ongoing series.
When BistroAwards.com started the Cabaret Setlist series, we subtitled it "Repertoire for the Once and Future American Songbook." And we've stuck pretty closely with purely American titles so far. We've stretched the definition occasionally—including songs cowritten by non-Americans. There was British lyricist Leslie Bricusse, who collaborated with Henry Mancini on "Two for the Road," and also German-born composer Kurt Weill, who had not yet gained American citizenship at the time he wrote "It Never Was You" with Maxwell Anderson.
Today's song selection, "I'd Be Surprisingly Good for You," is more of a fudge. It was penned by two Britons: composer Andrew Lloyd Webber and lyricist Tim Rice, for their 1970s pop opera, Evita. However, Lloyd Webber and Rice, like Bricusse and Weill (and, certainly, like Noël Coward, John Lennon / Paul McCartney, and Elton John—among others), are or were internationally known talents working on both sides of the Atlantic. I like to think of them as honorary contributors to the American songbook. That's my excuse, anyhow, and I'm sticking to it.
So, with that caveat out of the way, here's a look at "I'd Be Surprisingly Good for You."
Standing Alone
Songs from the musical stage used to take the lead on the hit parade, both in the pop and jazz worlds. Radio introduced listeners living far from Broadway to melodies by the likes of Rodgers & Hart, Cole Porter, and the Gershwins.
But as radio became suffused with rock music and its sub-genres in the late 1960s, Broadway and London's West End began losing their grip on the wider listening public. Had musical-theatre productions with rock-based scores had a stronger, wider-ranging presence, things might have been different. It's true that the 1967 rock musical Hair provided hit songs for The Cowsills, Three Dog Night, and the Fifth Dimension. But you know what they say about exceptions proving the rule….
In the early 1970s, Lloyd Webber and Rice found a new way to entwine the worlds of pop music and theatre. The sung-through rock opera Jesus Christ Superstar (1970) began as a studio recording—a "concept album"—before venturing onto the legitimate stage (Broadway in 1971, the West End in 1972). The JCS score produced an airwaves hit: "I Don't Know How to Love Him." It was sung by Yvonne Elliman on the concept album and by Helen Reddy (and others) in the pop world.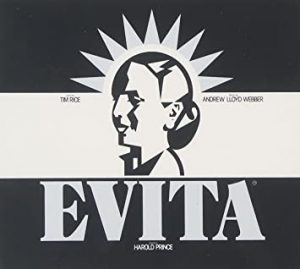 A subsequent Lloyd Webber / Rice show, Evita, followed much the same route as JCS. Documenting the rise and fall of Argentina's Eva/Evita Perón, the actress who married military-leader-turned-president Juan Perón, this musical also made its debut as a concept album (in 1976, with Julie Covington in the title role). In Evita's trajectory, however, the Broadway engagement came after the show's 1978 West End debut (starring Elaine Page as Eva).
The big number from Evita was, of course, "Don't Cry for Me Argentina," but that was a rather bewildering happenstance. Just as you wouldn't expect the title songs from Oliver! or On the Twentieth Century to have a life outside their respective shows, you wouldn't imagine that Evita's big Argentine anthem would work as a "stand-alone" pop release in the states or in Britain. Other entries in the Evita score ("On This Night of a Thousand Stars," "Another Suitcase in Another Hall") seem to have been better possibilities for out-of-show success than "Don't Cry." I believe, however, that "I'd Be Surprisingly Good for You" would have been the top contender had "Don't Cry" not enjoyed such a welcome reception from listeners thanks to its contagious melody and the popularity of the concept album. Eva's celebrated balcony number was eventually covered by everyone from Tom Jones to Joan Baez.
In any event, here is "Surprisingly Good" as sung by Patti LuPone (along with Bob Gunton) in the 1979 Broadway outing. The song is embedded in what is known as the "Charity Concert" sequence: Click to listen.
Mesmerizing Mating Dance
In the context of Evita's sung-through libretto, "Surprisingly Good" is actually a duet. It takes place when actress Eva Duarte first meets Juan Perón, then a politically ambitious military man, at a concert to raise money for victims of an earthquake. Fragments of the song's melody are sung by the two characters in the pre-song recitative. Then Eva delivers it as a pop aria as she works to hold the attention of the man who will boost her rise to power and fame. Late in the number, Perón responds, announcing his enthrallment: "I understand you perfectly."
We hear the song's melody at later points in the show, too. Writer Stephen Citron, in his 2001 study Sondheim and Lloyd Webber: The New Musical, suggests that the tune is heard whenever the story turns to Eva's propensity for "running the show."
During the charity concert sequence, "Surprisingly Good" eventually gives way to a different musical theme: the brash, dissonant sequence about lovers playing tricks on their partners. Lloyd Webber and Rice don't bring this first iteration of "Surprisingly Good" to a fully satisfying conclusion. But—again—as Citron suggests, the tune is always close at hand, not unlike Eva and Juan's pervasive hunger for power and sex.
"Surprisingly Good" is a song of seduction. It may not sound like a tango when it's first heard in the show, but the melody lends itself to tango-fication. This was reinforced in ensuing years, with an instrumental dance section added to the score for the revival starring Elena Roger. Hear this revised arrangement here.
The minor-key melody has a winding, insinuating quality that is more than a little hypnotic. In Evita, the number includes a sax solo that could conceivably be a stand-in for the quintessential snake-charmer melody sometimes called "The Streets of Cairo" (a song I remember as "There's a Place Near France"). Incidentally, Walter Kerr, in his Times review of the original Broadway production, noted that LuPone as Eva moved "with rattlesnake vitality." Perhaps this song subliminally underscores the reptilian component of Eva and Juan's psyches.
Eva seems to intuit that the servile pose she strikes will be just the thing to enhance Perón's ardor. She presents herself as deferential, apologetic. "I don't always rush in like this," she tells her prey. "I won't go on if I'm boring you." She swears that there's "nothing calculated, nothing planned" in her approach to him. Which, of course, is absolute mierda. The Evita audience has already seen the ruthless Miss Duarte make short work of the hapless band singer Magaldi, whom she likewise bedded.
On some level, Eva seems to realize that the colonel, a manipulator himself, can see through her guile. In effect, she winds up manipulating in plain sight. Citron actually finds this song filled with "astonishing candor." What Perón sees (between the lines, anyway) is what he gets.
When Rice has Eva tell Juan that she's not looking for "a hurried night" or a "frantic tumble," it certainly doesn't imply that there won't be a tumble of some sort. Both characters are skilled seducers who take it for granted that they will wind up coupling. They circle each other anyway, creating an enactment of seduction, which is what the tango is all about, when it comes down to it. Each character here is performing for the other, working variations on the mating dance.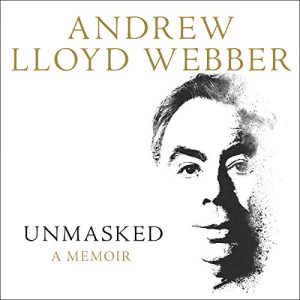 The song seems not to have been paid much analytical attention over the years. In his book One More Kiss, musical theatre historian Ethan Mordden merely cites it, along with other "Latin numbers" from the Evita score, as evidence that Lloyd Webber was moving away from the rock-based sound he'd used in Jesus Christ Superstar. Lloyd Webber himself, in his 2019 memoir, Unmasked, notes that he will listen to this song to see whether a performer accurately sings the dissonant note that he wrote for an occurrence of the word "for" in the line "I'd be good for you too."
"Many presume it's a mistake," he writes of that sour musical moment. "It's not. It's about the deep cynicism of both protagonists."
One perceptive examination of the song comes from the unnamed proprietor of a website called "Seeing Secondhand." This commentator notes: "[H]ow one reads 'I'd Be Surprisingly Good for You' is based largely on how one views Eva, and there's no one way to view her. Either 'I'd Be Surprisingly Good for You' is like watching a housecat go outside and eviscerate some squirrel, or it's like watching a stray cat chase a squirrel and eat it because [the cat] would starve otherwise."
In other words, the song may be born of Eva's boredom or it may be born of her desperation.
"Surprisingly" Covered
Even before Evita made it to the West End, "Don't Cry for Me, Argentina" had been performed by an array of performers, including The Carpenters, Olivia-Newton John, and Petula Clark. Later, it would be tackled by everyone from Tom Jones to Joan Baez.
Comparatively speaking, "I'd Be Surprisingly Good for You" has gotten short shrift in terms of pop coverage.
British pop singer Linda Lewis released her dance-club version of the song in 1979, when disco fever raged. Her version gives a few nods to the song's pedigree as tango. But it focuses largely on the driving dance beat of the day. The sea of swirling strings also tags this version as an artifact from the boogie-on-down era. I find much more interesting the pounding bass opening, which is reminiscent of 1960s surf music but also seems to anticipate a punk-ish or New Wave-y 1980s vibe.
Marti Webb had taken over for Elaine Page in the original West End run of Evita. Then, in 1995, possibly in anticipation of the coming 1996 film version, she recorded an album of songs from the show. In this studio version of "Surprisingly Good," she was joined by Carl Wayne, who took on Juan Perón's lines. This version includes a sultry saxophone solo, much like the one heard in the theatrical rendition. Webb brings the song to an end simply, if somewhat abruptly. Listen here.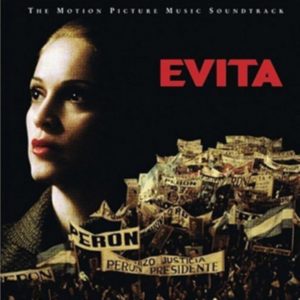 The version from the soundtrack for the film, which starred Madonna (and Jonathan Pryce as Perón), has an arrangement that takes the song out of the 1970s and into the 1990s. A gentle rock beat is accentuated with a good deal of vibraphone, making the seduction scene seem more dreamily erotic than before. Once again, the song ends fairly abruptly on the soundtrack album, but the quiet, percussive, rattlesnake-rattle effect in the last seconds of the track enhances the mood of dangerous sexuality. Madonna is Madonna: modest of voice, big of brand. Sample the Madonna version.
In 2006, jazz and pop singer Barbara Lusch (based in Portland, OR) released an album with her version of "Surprisingly Good" as the title track. It's a clear-voiced, straightforward take with an arrangement that sends the tango sensibility lurching full tilt. The number becomes something of an aural pas de deux for Lusch and spirited pianist Dan Gaynor: Listen to Lusch's luscious take.
If Tom Jones can sing "Don't Cry for Me, Argentina," then a guy should also be able to stake his claim on "Surprisingly Good." Bass-baritone jazz artist Ori Dagan dug deep into the cellar for some impossibly low notes on his subdued 2012 version. Christopher Loudon applauded the effort in his JazzTimes review: "[Dagan] takes the fiery foreplay of [the song] and with exquisite assistance from Jane Burnett on soprano sax, transforms its devilish lure into near-angelic yearning." I'm not sure I'd go quite as far as Loudon with such praise—but hear and decide for yourself.
Day Seizes the Day
The latest artist to put a spin on "Surprisingly Good" is jazz vocalist Spencer Day, who has included it on his just-released album, Broadway By Day (Club44 Records). This collection of songs from musical theatre is the singer's first album consisting entirely of covers. In a recent phone interview, Day told me he deliberately steered away from often-covered titles by the likes of Cole Porter and the Gershwins. For a time, he explored the idea of recording songs from today's crop of theatrical composers and lyricists, but he found himself drawn instead to songs from mid-to-late-20th-century Broadway shows, many of which he recalled from his youth. However, he tended to avoid the most notoriously overworked warhorses. For instance, he sings South Pacific's "Bali Ha'i," not "Some Enchanted Evening," and he gives us Annie's "Maybe" instead of "Tomorrow."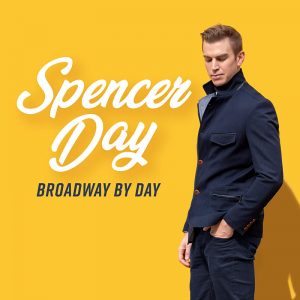 Alex Frank, Day's co-producer and co-arranger for the album (and his regular bass player), had one stipulation for the singer when they embarked on the project: no Andrew Lloyd Webber. Somehow, Day eventually convinced him otherwise. (Besides "Surprisingly Good," there's also a version of "I Don't Know How to Love Him" in the collection.)
Initial recording sessions began in 2019. When I'd previously spoken with Day, in March of 2020, it was at the after-party for that year's Bistro Awards, at which he was honored for his work as "Singer-Songwriter-Recording Artist." He was set to travel to Mexico the following day for a couple of shows. And, indeed, he went. But the pandemic hit right at that point, and Day wound up staying south of the border for much of the duration.
Work on the album continued, nonetheless. A fan of mariachi music, Day found himself frequenting a recording studio in Guadalajara. He was able to get work there (some public service announcements, a tequila commercial in both English and Spanish). Sometimes, he traded his services for studio time. He was already friends with acclaimed Mexican guitarist Eduardo Leon, who would wind up playing on the "Surprisingly Good" track.
Back in pre-COVID Los Angeles, the selection had had a sound that was "very smooth and jazzy." It took Day some time to recognize the opportunity that fate had provided him: "This song takes place in Latin America, and I'm in Latin America."
Musical arrangements on the album were written by Frank and Day, but Day arranged "Surprisingly Good" on his own. He did, however, have some assistance from local music teacher and composer Rigo Mora when it came to the string section. Mora ensured that Day's arrangement was physically possible for musicians to play. The strings, Day notes, were intended to have "a classic tango feel." But the arrangement was more complex than that. Elements of Mexican bolero were also added. They can be heard in the guitar-strumming and in the percussive patterns for the maracas.
"I think we found a cool hybrid of jazz, tango, and then Mexican bolero, which is kind of the underlying rhythm, I suppose…. Harmonically, I find it very strange and interesting…. I'm very proud of how it came together, in a kind of effortless way." Experience this jazz-tango-bolero fusion from Day.
Day is very aware of the shadier thematic elements in the song. He found it fun to explore devious and self-serving character motivations that he would shun in his personal life. He strove, however, to present such motivations without judgment.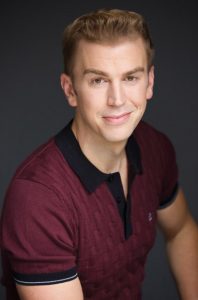 "It's incredibly cynical," he says of the song. "But what I like is that it's incredibly sexual as well…. The song for me is about casting a spell."
He compares this "transactional" number to Cole Porter's "Love for Sale." It's not, he says, about the kind of love that involves bringing chicken soup to your partner's sickbed. How did Porter describe it?  Love that's only slightly soiled.
Day felt he could count on his voice to give the number a "compelling" effect. But "Surprisingly Good" proved more difficult to sing than he expected. That's something he finds true with other compositions by Lloyd Webber as well. They have, he notes, some "odd time signatures."
Also, finding the right points at which to take a breath isn't always easy. Day wanted a "breathy" quality for "Surprisingly Good," but he found it a challenge to "keep it done in a whisper but keep the rhythm and the energy up."
And how did Day manage the tricky business of bringing the song to a close? That was something he found himself taking a stand on. Frank, along with reps from the label, had felt that a big bang of a note should bring the song home. But Day decided to go with a traditional studio fadeout while the musicians played, post-vocal. (In subsequent live performances of the number, musicians have approximated that fadeout as best they can.)
"That's part of the sexiness: just getting to hear the guys play over this very seductive groove," Day explains.
"Surprisingly Good" has been one of the more well-received tracks on the album for those who've had an early listen. And it turns out that Frank and the other naysayers wound up liking it after all. Day feels vindicated and is glad that he stood his ground.
I ask him what advice he'd give to someone thinking about singing this song. His response is somewhat more general. He says he looks forward to having additional singers put their personal stamp on the neglected number. Noting a fairly widespread antipathy toward Lloyd Webber in some circles, he advises singers not to be overly concerned about singing material that audiences love but critics haven't fully embraced:
"Don't be a snob about Andrew Lloyd Webber," he urges. "Don't be afraid to like something that's already popular."
###
Category: News / Reviews / Commentary