Editor's note: This review has been updated to correct factual errors in the original version published on December 10. We apologize for the errors and sincerely regret any misunderstanding they caused.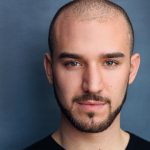 At the beginning of A Celebration of Jewish Broadway (directed by Lina Koutrakos), which he recently brought back to Birdland Theater, Ari Axelrod cheerfully admitted that the premise was hardly original with him. (He didn't cite this particular example, but PBS has been raising money for years with their documentary on the same topic.) Yet, in genial and forthright fashion—a tone he maintained throughout the evening—Axelrod allowed as how "Judaism and musical theatre are the two things I love most in the world," and "the third thing I like is talking." For the next hour or so he proved his point on all three counts.
With the considerable help of pianist and music director Mike Stapleton and from a celebrated guest star, Axelrod pretty much covered the expectable waterfront, from Irving Berlin to Adam Guettel and Jason Robert Brown. He began and ended his show with the work of his two favorite composers, Leonard Bernstein and Stephen Sondheim, with two of their collaborations from West Side Story ("Something's Coming" and "Somewhere"). For good measure, he included in his set "Cool," creditably accompanying himself on conga drums, and Sondheim's "Another Hundred People."
Also well represented were Harnick & Bock ("Miracle of Miracles"), Jerry Herman (a Milk and Honey medley, with apt emphasis on the multi-meaning "Shalom"), Stephen Schwartz ("Corner of the Sky"), and Jason Robert Brown ("Shiksa Goddess" and "This Is Not Over Yet"). A three-generation Rodgers family set was memorable, too: "Some Enchanted Evening" (Richard Rodgers), "Shy" (his daughter, Mary Rodgers Guettel), and "How Glory Goes" (her son, Adam Guettel). Throughout the show, Axelrod offered relevant anecdotes from his Michigan childhood and his pursuit of an acting career. His packed, friendly audience responded enthusiastically and knowingly to his familiar-sounding stories and his pleasant, forceful and wide-ranging singing voice. He played very well to the audience as a whole, but I missed the direct connection to each individual member of the audience that is essential to the art of cabaret.
By contrast, that essential artist-audience symbiosis was demonstrated mightily by the guest star, Tovah Feldshuh, who told similar stories of her Jewish childhood and showbiz aspirations, including a hilarious imitation of her father constantly singing his favorite Gershwin songs off-key, and sang George and Ira's "It Ain't Necessarily So." Best of all, she seemed to reach everyone in the audience individually.
A Celebration of Jewish Broadway
Birdland Theater – November 20
Category: Reviews