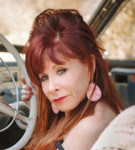 Sometimes when a show goes wrong, it goes wrong in every way. Sad to say, Andrea Bell Wolff's "Bad Girls Do Cry," which is dedicated to the girl-group sounds of the 1960s, is one of those shows—from little things like misspelling the names of Lesley Gore and Carole King (repeatedly) in the song list, to backup singers snapping their fingers away from the microphones so we hear not a crackle, to major things like attitude and tone, which I'll discuss as we go.
Wolff affects a little girl, Ellen Greene-lite voice that proves more grating than ingratiating. The song selections are the expected ones—which, in itself, would not be bad if they were not performed in the expected ways as well. Even worse, the show too often treats them with derision rather than delight. When a song and style are made fun of in the set-up and delivery, how can an audience be expected to appreciate what made the song a hit in the first place? In its original form, the material might be a bit dated, but the songs retain an abundance of joy and fun and style, none of which is present in this show. Instead, the songs are presented with a wash of loud, relentless musical backing and empty vocals, which render these pop classics virtually indistinguishable one from the other. How much better it would have been for Wolff, her backup singers (Carolee Goodgold, Deb Lyons), and the band to embrace each song with an inventive arrangement and a distinct vocal specific to the stories these songs have to tell, thereby enlivening the tropes of the girl-group sound.
The performance remains in a limbo between parody and tribute, not helped by heavy-handed attempts to inject humor in the proceedings with projected video mash-ups of Wolff with Arnold Schwarzenegger in Terminator leather drag for "Leader of the Pack" (Ellie Greenwich, Jeff Barry, Shadow Morton), and then, as an inexplicable intro to a trio of Lesley Gore hits, the climactic scene from The Graduate. Both fall flat.
The robotic choreography of derivative girl-group moves might, instead, have, with wit and style, illuminated the lyrics and stories and responded to the undeniably infectious rhythms in fresh ways and given a modern twist to the cliché of those Sixties moves.
One does not normally associate shtick with this material, but in this show it abounds. At one point, the director walks through the house to bring a ringing pink plastic cell phone to the singer to set up the Brenda Lee hit "Break It to Me Gently" (Joe Seneca, Diane Lampert). Under the best of circumstances this hoary device would be questionable, but here it is even worse. Did no one connected with this tribute to the Sixties realize that cell phones didn't exist then? An old-fashioned black dial-up phone on the piano would have solved this handily. There are even creaky Jewish mother jokes used in a misguided attempt to liven up a pairing of "Mama Said" (Luther Dixon, Willie Densen) and "Shop Around" (Smokey Robinson, Berry Gordy).
The one respite from the onslaught of music is "Will You Love Me Tomorrow?" (Carole King, Gerry Goffin) backed by just a lone (if overly busy) piano arrangement. Wolff gives us a glimmer of what might have been, a peek at who she is behind the plastic performance, but she backs away from the intimacy all too soon and abandons the story for bombast. If only she had chosen to let herself inhabit these songs from the inside and made them her own. We get no sense of why she chose to do this material or, indeed, put together this show.
In short, it's as though the singer and her cohorts were attempting to cash in on the nostalgia and good feelings these songs engender in an audience, without having to earn that response on their own. This is all especially regrettable in that director Dennis Deal and co-writer/co-conceiver/music director Barry Levitt have contributed exemplary work on other projects.
"Bad Girls Do Cry"
Don't Tell Mama – October 8
Category: Reviews