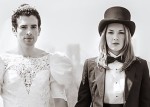 First, I have a confession to make. I have a soft spot for the "Vegas side" of cabaret when done well. I have such lasting memories of Ann-Margret, Peter Allen, Petula Clark and others doing big, brassy, flashy shows that at the same time managed moments of heart and intimacy. At Feinstein's/54 Below, Jarrod Spector and Kelli Barrett's "This Is Dedicated: Music's Greatest Marriages" is done very well, indeed, and I loved it.
Promising young Broadway stars, Spector and Barrett met, romanced, and wed recently. Shortly thereafter they found themselves at a concert honoring legendary lyricist Alan Bergman, where they heard the 90-year-old serenade Marilyn, his wife of 55 years. The seed of what was to become "This Is Dedicated" was planted that night. The couple began to investigate other musical marriages, and soon this idea developed into a delightful evening of songs that were written and/or sung by married couples. These two talented singer/actors have enough energy and charm to single-handedly (or in this case, I guess, double-handedly) light up all of Broadway. In an evening of well-known songs done to perfection, Spector and Barrett manage to touch on the humor, the resiliency, the joy, the sadness, the hope, and the despair of romantic relationships and how the various messages of all these love songs reflect and impact on their own marriage.
The show opens with a fiery "Because the Night" (Bruce Springsteen, Patti Smith) that electrifies the audience, then goes right into a lengthy medley of mostly sixties hits like "Chapel of Love" (Jeff Barry, Ellie Greenwich, Phil Spector) and "Some Kind of Wonderful" (Gerry Goffin, Carole King) that serves both as a sort of emotional overture to the evening and flashback to Spector's career-making turn in Broadway's "Beautiful," in which he plays Barry Mann. Crowd-pleasing does not begin to describe the effect of this opening: they don't merely rest on this laurel; throughout the show they deepen and intensify the good will they have created, and we are in the palm of their hands for the rest of the night.
Mann, his wife, Cynthia Weil, and James Horner provided "Somewhere Out There," one of the evening's two softer, graceful moments that touch the heart, the other being "All I Have to Do Is Dream" (Felice & Boudleaux Bryant). One of the special pleasures of this show is observing the spouse who isn't singing as (s)he watches the one who is. The love and affection are palpable, flowing over the footlights like a warm breeze on an autumn night. "How Do You Keep The Music Playing?" (Michel Legrand, the Bergmans) is included as a dramatic nod to their inspiration. Their forays into non-Top 40 radio material work to great effect as well. I particularly enjoyed Spector's "Downtown Train" (Tom Waits) and their one step into country with the Johnny Cash and June Carter hit "Jackson" (Billy Edd Wheeler, Jerry Leiber). There is a terrific medley, with Spector singing "(You're My) Soul and Inspiration" and Barrett doing "Here You Come Again" (both by Mann & Weil), in which the songs inform and enhance each other in unexpected ways and make this a dialogue about lost love and second chances. When the two voices join at the end of this medley, it is positively thrilling. I could go on listing titles, but suffice it to say there is nary a misstep in song choice or presentation.
The writing is smart, witty, charming, and even moving at times. The retelling of their proposal night is delightfully presented as an elaborately plotted caper, and naturally leads into "Live and Let Die" (Paul & Linda McCartney). There are enjoyable throwbacks to that corny kind of dialogue that filled TV specials in the '60s and '70s, which the couple pulls off with aplomb. The show is smoothly directed by Eric Michael Gillett, and music director Adam Ben-David leads a fantastic quintet that contributes mightily to the show's success.
Well, I do have a minor reservation or two. They should commit more wholeheartedly to their impressions of Sonny & Cher and Ike & Tina, both vocally and physically. It's almost there but needs to be bigger—for example, have Barrett's Cher standing on a box so she could tower over Spector's Sonny. My other reservation is with their encore, "Crazy in Love" (Beyoncé Knowles, Rich Harrison, Shawn Carter, Eugene Record). Granted, Beyoncé is married to Jay Z, but the song is so weak it's out of place here. These wonderful singers should close with something more fun and appropriate, such as the Captain & Tenille hit "Love Will Keep Us Together." But as I said, these are minor reservations. Jarrod Spector and Kelli Barrett are simply sensational.
"This Is Dedicated: Music's Greatest Marriages"
Feinstein's/54 Below  –  October 20-23
Category: Reviews