A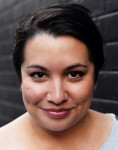 rising star in Australian cabaret, Analisa Bell brought her show "Perthonality 2.0" (she's from Perth, get it?) to the Duplex in November after having debuted it at the Metropolitan Room in August. Urged by her mentor, Faith Prince, to come to New York to sing, she proved to be an accomplished vocalist, comedian, and storyteller. After spending time as a radio personality in her native country she returned to her first love, performing in cabaret and theatre, and has toured Australia extensively for the last few years. The show tells us of her journey here, and while "autobiographical cabaret" seems to have become ubiquitous of late, her "Down Under" beginnings at least gave her tale an exotic spin.
She opened with André and Dory Previn's rousing "Yes" paired interestingly with "Somewhere Out There" (James Horner, Barry Mann, Cynthia Weill). What would have been a strong introduction to the evening and to her dreams of being in New York was thrown off balance by the unnecessary inclusion of a third song in the medley, "Over the Rainbow" (Harold Arlen, E.Y. Harburg). Next she spoke of her difficulties fitting in here, with a fun take-off on "Let's Call the Whole Thing Off" (George & Ira Gershwin) substituting Australian words and phrases. Bell proved so charming that even a pervasive bout of "lyric amnesia" did little to lessen the good humor of her performance. Here and throughout the evening, music director Alex Rybeck contributed class and calm to the proceedings, along with his usual fine arrangements.
Special musical guest Pat Deeney played banjo and guitar on a few numbers, most successfully on Taylor Swift's "Mean," with its story of a victim confronting a bully, which was given a strong and affectingly personal reading by Bell. Recalling her days as a radio star, the singer chose to sing to a track, saying, "…got to have a bit of cheese in the show, right?" WRONG. She's too good a singer for such lame shtick. On the other hand, "It's a Perfect Relationship" (Jule Styne, Comden & Green, from Bells Are Ringing) was given a delightful updating to the age of Tinder and other hook-up sites.
My favorite moment of the night was also its most quiet and heartfelt. Bell put away the musical and comedic chops for a moment and delicately presented the fragile, tender love song "Little Person" (Jon Brion, from the movie Synedoche, New York). It was simply beautiful.
Then it was time to close the show, and unfortunately the ending proved as uneven as the opening. In Australia, Bell had appeared in a number of biographical tribute shows to famous women, and she chose to feature three of them in her finale: Marilyn Monroe, Billie Holiday, and Édith Piaf. She pulled off "God Bless the Child" (Billie Holiday, Arthur Herzog, Jr.) and "Non, je ne regrette rien" (Charles Dumont, Michel Vaucaire) with remarkable flair, but when it came to Marilyn she chose to sing Elton John and Bernie Taupin's "Candle in the Wind," a tired song about rather than sung by Monroe. It added nothing to the medley and, in fact, detracted from it. Then Bell squandered her encore with a reprise, in its entirety, of "Yes" from the top of the show. It proved a waste not only of time but also of a truly promising and entertaining talent.
"Perthonality 2.0"
The Duplex  –  November 24
Category: Reviews