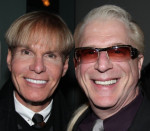 As part of its Winter Rhythms festival, Urban Stages presented "Until Now…The Songs of Ron Abel and Chuck Steffan" with a starry cast and an instrumental trio featuring Abel on piano, Tom Hubbard on bass, and Rex Benincasa on drums.  Abel has arranged, orchestrated and conducted around the world with such luminaries as Bette Midler, Liza Minnelli, Lucie Arnaz, Taylor Dane, and Jessye Norman.  As a composer, he has written both theatrical and pop songs, often with his partner both on- and off stage, Chuck Steffan.
Their latest show, Hazel – A Musical Maid in America, which premieres in the spring at the Drury Lane in Chicago, provided one of the evening's two legitimate showstoppers in both performance and writing: "He Just Happened to Me," done to perfection by their Hazel, Klea Blackhurst. The other came from another future project, Bricktop, Queen of the Night, with the luminous Andrea Frierson singing "A Place of My Own." Frierson's soulful vocals also salvaged a less impressive song called "Same Old Moon." Ty Stephens's smooth, rich sound melted over the audience on "Slow Dancing." Unfortunately, his second number was a turgid "spiritual" ballad called "Show Me Your Love."  Stephens would have benefited from a more uptempo showcase.
Valarie Pettiford is a fantastic dancer with a stunning sound and look, but her incessant movement detracted from "Let 'Em Talk." I wanted to hear her husky, breathy voice deliver the lyrics, but there was no way to do this because she never stopped her shapeless "choreography" long enough to get the story across.  She was a bit calmer (and even began on a stool) for her second appearance, but the song, "When Do I Find Love?," was one of the evening's weaker offerings. The remaining cast member, Raissa Katona Bennett, was credited with inspiring and organizing the evening for the festival. I applaud her for wanting to champion lesser-known talents, but her performance was problematic. Each of the songs had an unfortunate key choice, and stylistically, her legit sound was at odds with the hip, haunting melody and arrangement of "Westbound Train."  What charm there might have been in "That's My Joe" (the songwriters' labored answer to Flaherty & Ahrens's "Times Like This") suffered from her heavy-handed delivery.
Abel, whose playing was exemplary, seemed ill-at-ease whenever called upon to speak or sing. His constant self-deprecating dismissal of this situation did little to help. He opened the evening with "From Up Here," about viewing the world from a piano bench, but the song collapsed under his scattered, under-rehearsed delivery. He also performed a crass, unfunny seasonal ditty called "Crabby Christmas," which does not rank high in the seemingly endless list of holiday parodies and special material that drown New York cabaret stages every winter. Steffan was brought out early on in the proceedings but offered nothing but a couple of flat asides, content to sit silently on a stool behind his partner.
With this talented group of singers and good, if uneven, material, this show should have been much better, but it felt slapdash and thrown together with no sense of structure or through-line. A bit of tweaking in both staging and programming (no director was credited) would have done wonders to both move the show along and present even the weaker songs in a much more favorable light. There might have been a duet here or there, and at least a group number to close the night.
The show ended with the title song, "Until Now." While the song itself tries perhaps a little too hard and derivatively to become a standard, Klea Blackhurst's rousing delivery of it could not be faulted.
Winter Rhythms at Urban Stages
December 4
Category: Reviews