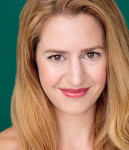 With "Johnny Mercer: Trav'lin' Light" (directed by Peter Napolitano and presented at Urban Stages' Winter Rhythms festival), Minda Larsen offered a reboot of a program of songs with lyrics by Mercer that she had first presented in Manhattan at the Metropolitan Room in 2014. Between that original engagement and this one-off encore, Larsen won the 2015 MetroStar Talent Challenge at the Metropolitan Room, where she impressed audiences and judges with her vocal prowess and her grounded, good-humored stage presence.
"Trav'lin' Light" offered a biographical sketch of Mercer's life and career that Larsen compared to and contrasted with her own experience. Both she and Mercer grew up in devoutly Christian families in the American South. Both moved to New York City at an early age to pursue show business careers. And both married spouses with backgrounds vastly different from their own: Mercer wed a Jewish chorine, Larsen a Russian acrobat.
The show did not dig terribly deep into the Mercer persona—it skirted some of the more troublesome shadows in his life. Larsen did acknowledge the lyricist's adulterous relationship with the much-younger Judy Garland, but she did not touch on his struggles with alcohol abuse and anger. A program exploring how a man with a seemingly crippling dark side could write such gentle, thoughtful, sometimes almost Wordsworthian lyrics could be a fascinating one. But that wasn't Larsen's agenda.
It was apparent from her first number, the inevitable "Skylark" (music by Hoagy Carmichael), that Larsen reveres the artistry in Mercer's lyrics. This came across in her careful enunciation and her uncommon capacity for making familiar words seem fresh. She transformed a line like "My heart is riding on your wings" back from a well-worn turn of phrase to a sharp and lively metaphor. She helped you to picture an actual bird in your mind's eye (perhaps because she was envisioning one in hers?).
Early in the program she cited Oscar Hammerstein II's observation about the quintessentially American nature of Mercer's lyrics. She illustrated that handily with her jaunty, downhome take on "In the Cool, Cool, Cool of the Evening" (Carmichael). But Mercer could mix slangy New World vernacular with something more sophisticated and still sound coherent. Consider how, in "Cool, Cool, Cool," he rhymes "fracas" and "jackass." And how many other lyricists from Mercer's era would have thought to choose the words "immovable" and "implacable"—as Mercer did in "Something's Gotta Give" (for which he also wrote the music)—and make them not just unobtrusive but a perfect fit?
Larsen—who was dressed for the occasion in a sexy and glamorous red gown that might have been worn at a swanky club in Mercer's heyday—colored the songs in this show with some of the same sorts of vocal shading that helped her succeed in her MetroStar bid. (She'd performed some Mercer numbers in that competition.) She is a trained singer, and her range is impressive. She made the low notes in "Skylark" and "Blues in the Night" (Harold Arlen) come off as earthy, bold and resonant. But then there was her dramatic rendition of "I Had Myself a True Love" (Arlen), which was outfitted with some lovely operatic-sounding flourishes, sung in her upper register. For further variety's sake I would have appreciated more of the quiet, understated singing that she displayed in her performance of "I Wonder What Became of Me" (Arlen), a song she used to help describe Mercer's doubts about his place in American songwriting during the onset of the rock-and-roll era.
Accompanying Larsen was pianist (and musical director) Neal Kirkwood. The ambitious arrangements he played during the set worked well most of the time. For instance, I liked very much the jagged jazz ornamentation underscoring the yearning melody line on "Moon River" (Henry Mancini), from the film version of Truman Capote's Breakfast at Tiffany's. It seemed to reference the mingling of the metropolitan and the bucolic in the tale of Capote's protagonist, Holly Golightly. But on a few songs—such as "I'm Old Fashioned" (Jerome Kern) and "Dream" (music by Mercer)—the arrangements sometimes competed with, rather than supported, Larsen's singing.
"Johnny Mercer: Trav'lin' Light"
Winter Rhythms at Urban Stages  –  December 10
Category: Reviews