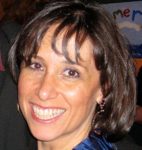 There's a straightforward, almost conversational quality to Whitney Chapman's vocals that works well for some of the mid-tempo and up-tempo songs in her Burt Bacharach/Hal David show (directed by Barry Kleinbort) at Don't Tell Mama—especially on songs with lyrics about everyday concerns, such as waking up and applying makeup or putting a hundred down to buy a car. On the other hand, it's not the ideal match for a formidable ballad like "Alfie" (which she considers the writing team's best song). Her voice doesn't display much if any vibrato, and when she sustains a note at medium volume, it can falter; however, when she approaches belter's volume, the problem is gone, and at the performance I attended, the further she got into her set, her tentativeness lessened and her singing became considerably more assured and mellifluous.
The arrangement for her first number—a mash-up of "Wishin' and Hopin'" and "Do You Know the Way to San Jose?"—is problematic. It uses only a few fragmented phrases from "Wishin'," and I failed to see the point of including them at all. (Mind you, I can understand why she might not have wanted to sing the whole song, with its "you'll never hold on to your guy if you don't get physical" sentiments.)
Immediately after "Alfie," she performs a medley of some of Bacharach and David's many movie themes. The audience's positive response to this sequence may have put her more at ease. The songs in the medley range from the familiar and engaging "Wives and Lovers" to the neglected but interesting "Who's Been Sleeping in My Bed?" to a couple of songs the writers would likely have wished erased from their catalog shortly after their composition, to wit, "After the Fox" (the title theme from a 1966 Vittorio De Sica film) and the main theme from 1967's James Bond spoof Casino Royale (a song that worked just fine as a Herb Alpert and the Tijuana Brass instrumental number, but when performed with David's beyond-clunky lyrics, elicited laughter of disbelief and possibly a few groans).
Chapman subsequently delivers an effective, more-romantic-than-erotic "The Look of Love" (also from Casino Royale), then gives us "The Man Who Shot Liberty Valance," a song written to help publicize the 1962 western of the same name. This rarely heard number may be the closest thing to a folk song that Bacharach and David ever wrote. It was Chapman's best-performed number the evening I attended. Though it's not a song that deserves to be front and center in the songwriters' catalog, she treats it as if it were a long-lost gem. By the time she reached "What the World Needs Now Is Love" at the end of the show, she seemed to be working at full steam. Her concentration on the lyrical sentiments of the song (which, she notes, was intended to be a "hymn") makes it sound fresh—not an easy task.
Her patter is upbeat and sincere. She talks about growing up around this music (her mother was a Bacharach/David fan) and about how the team's hits reflected the concerns of young women coming of age in the 1960s and 1970s.
Musical director and pianist David Gaines and "one-man-band" Louis Tucci (on bass, guitar, and accordion) serve Chapman well, "Wishin' and Hopin'" notwithstanding. At one point, she talks about the banner year Bacharach and David had in 1969, with both a show on Broadway (Promises, Promises) and an Oscar for Butch Cassidy and the Sundance Kid's "Raindrops Keep Fallin' on My Head." When Chapman then sings "Raindrops," the musical arrangement cleverly utilizes the vamp from Promises' "Turkey Lurkey Time." Other effective interpretations and arrangements include a burlesque-hall take on "I'll Never Fall in Love Again" (which Chapman sings as though inebriated) and a Parisian boulevard sound on "(There's) Always Something There to Remind Me."
Whitney Chapman Sings Bacharach & David
Don't Tell Mama – April 29, May 10, 18
Category: Reviews