Part Two of a two-part article on virtual performing. Read Part One here.
Performers across the boards have quickly adapted to the changes brought about by the Covid-19 pandemic. A number of cabaret performers have taken existing shows and retrofitted them to the online format, others have created all new virtual shows for themselves, while a few intrepid souls have even found safe ways to do live gigs. 
Billy Stritch is a singer, pianist, and songwriter, as well as a musical director for a number of artists including Liza Minnelli, Christine Ebersole, and Linda Lavin. Much of his career has been spent touring and performing live. With that option not available now, he has turned his camera on himself and his piano and created Billy's Place airing every Thursday at 8 pm on Facebook Live, with archive shows available on his YouTube channel. Notes Stritch about his shows, "Each spotlights a different singer or composer, but about every fourth week I do a request show so I can catch up on the songs people have requested in the month before. Some of the people I've spotlighted have been Judy Garland, Burt Bacharach and Hal David, John Kander and Fred Ebb, Tony Bennett, and Barry Manilow." Manilow provided one of Billy's favorite moments of the show so far. "Barry called in for a live phone interview during that show which was a thrill for me and the audience. That one garnered the most views I've had for a show, about 12,000."  
Stritch says that dealing with technical issues and learning to play to the camera made for a steep learning curve, but the overall experience of performing this way has made him an even better musician. "I find I am definitely working harder and reaching deeper to develop new content each week. Before this, there wouldn't be a reason to learn 12 to 14 new songs every week but I love the challenge of it. It's really gotten me more in touch with the musician within and how I interpret the material." 
The show has also given him a way to recoup some of the income lost due to cancelled gigs. "I have a solid core of viewers who contribute every week without fail. My show clearly has value to them and it's lovely that they contribute. I honestly don't know what I'd do without the live shows and the contributions they garner." Audiences can also purchase Billy's Place themed merchandise, and a CD of music from the show has just dropped.
As for if and how the current pandemic crisis factors into his shows, he notes "I do consider the fact that the shows are archived and that they will have some sort of life beyond this year. I try to keep everything as timeless as possible and I don't really address the pandemic or what's going on in the world during my shows. I want the hour or so that people spend with me to be about the music and to be a worry-free escape. It's all about entertaining the audience. The pandemic hasn't changed that!"
Julie Halston likes to think of her show, Virtual Halston, as a service. "Like Stagedoor Canteen during World War II, this is a service to help people get through one of the darkest events of our lives," she says. Billed variously as a variety show, a comedy show, and a talk show, "I think it's all three," opines Halston. The show airs every Friday at 5 pm EST on Streamyard. You can also catch archived versions on the Cast Party Network on YouTube or Halston's Facebook page.
Through her work on stage, and in TV and film, Halston has amassed a wide array of pals to bring onto her show and chat. "I love our guests. Many are Broadway  performers but we have branched out a bit to include TV stars, writers, and other artists. I do a great deal of research on each guest and also write a script that I follow loosely. Sometimes the conversation will take lots of twists and turns so I have to be flexible." When it comes to the financial end of the show, a portion of the proceeds that come in from every show go to a cause very dear to Halston. "Audiences know that a portion goes to the Pulmonary Fibrosis Foundation and I think that makes people feel good about doing that. Why wouldn't it?" 
According to Halston, mulitasking is one of the most essential traits needed for a show like this. "You have to get used to doing five things at once." When asked if she has any advice for performers considering making their own streaming show, she says, "Think seriously about what it is you want to impart. It's not clever enough to sit around with friends and just yak unless you are so smart and erudite and your friends are as well. Have a clear idea of what the tone of the show should be, the look of the show, and what it is you want to give to an audience. Even if our show looks and feels loose and breezy, it's actually not. It's pretty disciplined."
Since 2003, Jim Caruso has presided over Cast Party, a Monday night ritual at Birdland where new and aspiring performers mingle with veteran performers.  Caruso, who created the show from ground up, notes, "The people just show up.  It's been an open mic night in the truest sense of the word.  The show is created on the spot, and I can be found improvising as fast as I can.  I never know who's going to be brilliant or…not…so there's a slight sense of danger to it all." 
When Covid-19 hit, Caruso drew on his experience working on TV talk shows to create Pajama Cast Party which goes live every Monday night at 8 pm on The Cast Party Network on YouTube. Caruso states that he, along with producer Ruby Locknar, "work hard to make it look and feel like an honest-to-God television variety show," adding ,"I research each guest…even the ones I know really well…to hopefully make for interesting conversation.  Of course, the chat should feel natural, so I'm thrilled when it veers off into surprising directions.  My mission has always been to celebrate talent.  I'm obsessed with great entertainers."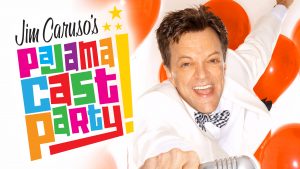 For Caruso, going from onstage to online had some unexpected effects. "The biggest surprise is how much fun it is. When the show first started, I was very sad about the state of the world.  An online variety show could have felt like an ugly stepchild of what we'd been doing live.  But Pajama Cast Party brought me back to life in a funny way.  I had a project.  I remembered how to be me.  And I could virtually surround myself with some of the most ridiculously talented people in the world." 
The online version has also introduced the show to many people who've never had the opportunity to experience its unique energy at Birdland. "Last week, between all the platforms, Pajama Cast Party had over 11,000 viewers.  That's a lot of nights at Birdland." He adds, "We have loyal viewers from all over the place.  Australia, the UK, France, Argentina, and Canada.  And just because the show goes live at 8 pm, fans can watch it on YouTube any time, any day." Caruso maintains the fact that while we recognize that the quarantine has been a nightmare for so many, one of its unintended consequences is that "It has given us the precious time to think…and to create outside the box."
Three years ago singer/songwriter Maria Gentile was given the opportunity to achieve a long held dream of creating and hosting her own radio talk show. The result, "What's the Story with Maria" airs every Tuesday at 9 pm on Armed Radio, I Heart Radio, Spotify, and YouTube. Says Gentile, "The show interviews creative people and celebrates living, thriving and surviving as a creative person. I love to showcase people whose minds are always going and who make beauty out of nothing. I feature everyone from singers and songwriters to visual artists and chefs." 
Prior to Covid-19, Gentile would comb the listings and book guests two to three weeks in advance giving them the opportunity to promote their work to her audience which spans more than 60 countries. Now, she observes, with very few artists having events to promote and the news changing daily and sometimes even hourly, "I don't book until two days before. I trust that I'm going to channel something that's important each week."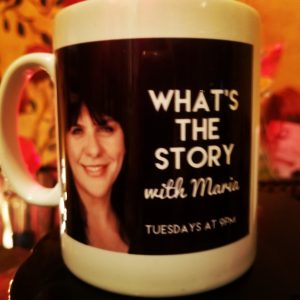 Since the show is broadcast out of Gentile's apartment and she had always invited her guests over for a meal. "Before Covid-19, I would have people in my home and I would cook for them. I would have two or three guests. I would find something they like and create it during the show. I miss cooking for people and I miss people telling me they love my cooking." The other thing she misses is the post show gatherings. "I loved having guests after the show sitting around my living room table and talking for hours." Now the majority of guests call in rather than appear on camera from her living room, but with that has come a new confidence in herself as a show creator and host.
"I feel less nervous about not having guests. I can do it myself if I have to. I am interesting enough." She also feels that the change to a call-in format has brought more intimacy to the show. "People are listening to colors of someone's voice. We're all vulnerable right now. That vulnerability is appreciated. It has been cool just to be me. I trust myself now, as a performer, as an entertainer, and as an energy in the universe."
Going Live: A County Fairground, Outdoor Garden, and Rooftop Terrace
The pull towards live performance is strong for most artists even in a pandemic, and this has led many performers to get creative and invent new and safe ways for artists and audiences to interact in person.
Thirty years ago,  Jason Graae was part of the original Off-Broadway hit, Forever Plaid.  At the height of the pandemic he got a call from the Ventura, California-based Rubicon Theatre. They asked if he'd be interested in doing a 30th anniversary socially-distant concert version of Forever Plaid in a drive-in theatre format at the Ventura County Fairgrounds with four of the other NY cast members. "I'm in love with the Rubicon Theatre," he says. "Carolyn Burns [the theatre's artistic director] was trying to figure out a way to get people out to perform. The company took over the whole fairground. They had a big concert stage with huge jumbotron screens behind us. It was quite the to-do." When asked if he had any hesitation going back to live performance after several months of quarantine, Graae responded with "Yes, sign me up!' I was so excited. I love the Plaids, we've kept in touch over the years. I had no hesitation." 
Still, as it got closer to the gig he was a bit trepidatious. "It was nerve-wracking to be out of my house, to be out in the world. I felt uncomfortable staying in a hotel, about singing in close proximity to these four guys." But Graae was quick to assure that those feelings didn't last long. "The Rubicon was very vigilant about our safety. Our mic stands were six to ten feet apart—challenging when you're singing four-part harmony.  We kept socially-distant, and Purell'd our hands to death. We each had our own mic stands and props that no else was allowed to touch. The other challenge was getting used to an audience that was confined to their cars listening through their radios. We encouraged them to flash their headlights and honk their horns. The first night it was slightly jarring. I found it a little off-putting to finish "Perfidia" and have a bunch of horns honking at me," he laughs ,"but by the second night of the three-night run, I craved those horns honking and those lights flashing." 
In the end, he observes, that while he's been participating in many on-line performances nothing can compare to performing live. "Live performing is dangerous, there's tension, anything can happen. I've missed that."
For Corinna Sowers Adler and her producing partner (and husband) Nick Adler, returning to producing a live performance all started with a location. "We have this space. What can we do?" mused Sowers Adler. "I'm not a person who can not not do something. If I'm given guidelines I will figure it out," she says of NJ's loosening of quarantine restrictions to allow outdoor dining. 
The space in question is the Oakside Bloomfield Cultural Center in Bloomfield, NJ, which, for many years has been the home base for the couple's Nicori Studios & Productions. Specifically, the Victorian era mansion's huge front porch has a capacity for a socially-distant audience, and moveable plexiglass screens for the performers for added protections. 
"The center has an in-house caterer who had lost a great deal of business from cancelled weddings, and we thought why not?" The Music at the Mansion Porch series features three different ticket types, an all-inclusive ticket which gives audiences socially-distant seating on the porch, a boxed meal provided by in-house caterer, plus the show, a show-only ticket that allows seating on the venue's lawn, or an online ticket that allows audiences access to the show through Zoom Webinar. The online component of the show has become an integral part of the series. "I like having the option of having a virtual audience," Sowers Adler acknowledges.  "I think it's going to be an element of our performing life and I don't think that's bad." 
Sowers-Adler herself was the first performer in the series because she wanted to be assured firsthand of the safety and comfort of the performers and audience. "I wanted to make sure that if I felt safe, everyone else would be safe. I was the one who measured where the tables were going to be placed.  As the producer, I was nervous about getting everything right, that people would feel safe, have a great time, and feel like they were in good hands." In the end she says that returning to live performing "felt like coming home. I felt grateful and joyful."  
Returning for a Cause – Katie McGrath & Lina Koutrakous
For producer Katie McGrath and director Lina Koutrakos, returning to live performance was an essential part of adding their voices to those who are working to make positive changes in a trying time. Uprising: A Rooftop Cabaret was produced by McGrath's nonprofit organization Immigrant Song. McGrath articulates, "Immigrant Song was founded last year in response to the spike in race- and religion-based hate crimes here in New York and across the country. The mission is to answer hate with the healing, unifying power of music."  Even the show's September 17th date had special meaning. McGrath tells: "It's the anniversary of the signing of our Constitution in Philadelphia in 1787, bestowing on all of us our rights of citizenship, including the rights to vote and to rise up against injustice when we see it."
Koutrakos, the show's director, came to the project with a unique perspective: that of a Covid-19 survivor. "I had the virus almost immediately" she points out. "The fact that I am well, riding my bike, singing and directing and getting to collaborate with folks from all over has made me so grateful.  My way to pay that gift back is to continue to pay it forward the way I know how—with music. The idea that my first trip back to live is with my friend Katie McGrath is perfect to add to my gratitude list." 
The venue for the show, McGrath admits, "took some searching. We needed an outdoor space with plenty of room for social distancing for the performers and our guests. We found exactly what we wanted, not from one of the usual venues but from a modern office building on West 34th Street with a 2,500-square foot terrace. Its non-pandemic capacity is 200 people, we limited it to 50." The safety of audience and performers was a top priority for the event. According to McGrath, "We studied the easing of restrictions in New York over the previous six weeks or so and realized we could over-deliver on the New York State guidelines for gathering safely— scrubbing tables and chairs with disinfectant cleaner, keeping six feet or more distance between parties and performers, mandatory masks, gloves for all helpers."
Koutrakos reflects, "Music is its own language. The interaction between lyric and melody, and singer and player, is enough to share with an audience. Add the communication we can do with our eyes and our hearts —even if the singers had on masks is mind blowing, especially since we've been without it for so long." And McGrath emphasizes, "While the digital world has made many things accessible during the pandemic, there's nothing like seeing the singers we love in person."
***
For the artists featured here and many others like them this has been a difficult time, and yet there are glimmers of hope and innovation and community. In the words of Corinna Sowers Adler, "We're all struggling now, and we've got to look out for each other. The arts will always find a way. They always have a rebirth and with that comes new ideas."
Category: News / Reviews / Commentary