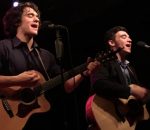 John and Matthew Drinkwater are twins—singing, football-playing twins, in their senior years at Wagner College. As I sat down to watch their recent show at Don't Tell Mama, I must admit I had a little trepidation that—with their being young, playing to a home crowd, and probably not thus-far knocked around by show business—I'd be seeing something not yet roadworthy. Nope. They are skilled singers with an easy and welcoming finesse on stage, they paced their show well, their self-accompaniment worked very well for them, and they were naturals with patter. The brothers have good instincts—and they must be getting a solid theatre education to have opened with the joke, "we couldn't think of a good opening number, so we'll be starting with the second song."
The evening was a meandering tour through rock history and its folk and blues roots. They joyfully broke the cardinal rule of rock, which is never to cover "Stairway to Heaven" (Jimmy Page, Robert Plant). Matthew sang the high notes with impressive ease; he might consider pushing his high range even further to evoke Robert Plant's angst, but it was enjoyable just to hear how at-home he is in his upper register. The brothers alternated between guitar-piano, guitar-guitar, and guitar-percussion arrangements. With the two guitars, they were reminiscent of 1950s Village folk acts, with enough integrity and musicality of their own that they were never doing a tribute show. "Ain't No Sunshine" (Bill Withers) featured John on lead vocals, with a pure ambient sound evoking Art Garfunkel. Their two-part-harmonies were always good, but you've never heard unison until you've heard twins sing the same note together; it was truly a unique sound and a natural double-track effect. "Sympathy for the Devil" (Mick Jagger, Keith Richards) was also a standout, with an easy tempo to start and a driving finish.
Guest Sophia Tzougros sang "Barracuda" (Ann & Nancy Wilson, Roger Fisher); Samantha Quinn covered Joni Mitchell's "Woodstock" and "California"; Bailey Claffey did an especially well-styled Stevie Nicks medley of "Rhiannon" and "Dreams." All three guest vocalists brought backing harmonies to the closing of the show, an anthemic "Purple Rain" (Prince).
As Matthew and John are just starting out, it's interesting to imagine what direction they might take if they keep doing cabaret, which hopefully they will. It worked perfectly well for them to have a loose narrative and a tight show and let their charisma and very good singing do the rest, but there are great themes they might try in future performances—for example, some vintage brother-to-brother and classic comedy duos to investigate—and bluegrass, folk, and harmony-based singing have always embraced the vocal blend of siblings, if only to save on hotel rooms on tour. Or maybe the Drinkwaters will just wing it and see what happens, which will probably be well worth watching.
Their next show will be at The Green Room 42 on March 16.
Don't Tell Mama – February 23
Category: Reviews