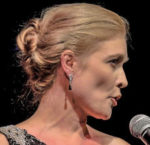 Shana Farr has brought her latest show, It's Not Where You Start: The Songbook of Barbara Cook, to the Laurie Beechman Theatre. Farr certainly looks the part. One can see in her the bright face of a young Barbara Cook, ready to take the stage, and the world, by storm. And, she sounds the part, with a lovely and expressive soprano, equally at home at both ends of the staff. If that were enough, she would be a star.
To be sure, a tribute show to Barbara Cook is no easy feat to pull off. And in many ways, Farr hits the bullseye. Elegantly dressed in an off-the-shoulder, black, brocaded gown, she begins with a "greatest hits" medley from Cook's career that includes "This Is All Very New to Me" (Albert Hague, Arnold Horwitt), "Goodnight, My Someone" and "My White Knight" (Meredith Willson), "Will He Like Me?" (Harnick & Bock), I Cain't Say No (Rodgers & Hammerstein), and "I Wouldn't Marry You" (Dietz & Schwartz). This solidly established her as a refined singer, with impeccable taste and the vocal chops to pull off such an aspirational evening.
The voice is stunning, creamy at the top, robust in the middle, and sensual at the low end. And with delicate decrescendos and perfectly placed pianissimi, it is really all that one might ask for when encountering the songbook of Barbara Cook. What struck me, however, was that for most of the evening, this regal presence, this very musical singer had, for some reason, placed herself at a distance from us with an obvious fourth wall. And while in her patter she extols the virtues of Barbara Cook's deep connection to the lyric ("living inside a song and singing my way out," quoting Cook), she rarely let us in so that we might have experienced not only her gorgeous voice, but also her unique perspective on the stories she was telling—or, should have been telling. And even though her renditions of "Vanilla Ice Cream" (Harnick & Bock) and "Glitter and Be Gay" (Leonard Bernstein, Richard Wilbur) were vocally perfect, they did not land the comedy or tell us anything about Farr's own personal sense of humor.
Striking exceptions to this were her beautiful interpretations of "Hello Young Lovers" (Rodgers & Hammerstein) and Sondheim's "Losing My Mind," played elegantly by music director and pianist Mark Janas; here the pathos was palpable. And the stories she told were uniquely her own. From the corner of some heavenly rehearsal, I am sure both Barbara Cook and Wally Harper were smiling.
For her last number (after "Glitter and Be Gay") Farr seemed to relax and enjoy herself more with a knock-out arrangement of "It's Not Where You Start" (Cy Coleman, Dorothy Fields), which referred back to Glitter and Be Gay in a playful and unexpected way (thank you, Mr. Janas). Here we saw a beautiful young woman fully realized, intricate, communicating, and joyous. Please, oh please, let's have more of this!
Continuing in this new-found freedom, Farr encored with Noël Coward's "If Love Were All"; she went up slightly on the lyric and revealed an even more effervescent and charming personality.
So, it seems, where you start does matter. Next time, let's start at the end: get "Glitter and Be Gay" out of the way and have fun the rest of the evening.
It's Not Where You Start: The Songbook of Barbara Cook
Laurie Beechman Theatre – October 18, November 14
Category: Reviews