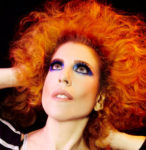 Raquel Cion's show at Pangea is entitled Me & Mr. Jones: My Intimate Relationship with David Bowie. Like Bowie, Cion is a shapeshifter. With layered costumes by David Quinn, she peels back the story of her childhood, teenage years, and adult relationships with the icon in his many incarnations. With her low, textured voice, the music itself is a great fit for her. It's very engaging to hear how a strong actor, under Cynthia Cahill's direction, tackles those personal and often fantastical lyrics without taking us out of the mood of a real rock show.
"Me & Mr. Jones" has meant various things in music. More recently it's been known as an Amy Winehouse song—which may have been a riff on Billy Paul's early 1970s soul hit about infidelity, "Me and Mrs. Jones." It may be a play on both those titles, but here it also means fidelity to a personal version of David not everyone knows. Bowie was born David Robert Jones; he changed his name to avoid confusion with the front man of the Monkees, Davey Jones.
Musically, the show is driving, nuanced, and soulful; respectful to the Bowie originals yet inventive—a standout. Musical director and pianist Karl Saint Lucy leads the band (Jeremy Bass on guitar, Daniel Shuman on bass, and Michael Ryan Morales on drums). The evening opens and closes with early 1970s Bowie songs ("Moonage Daydream" and "Life on Mars?") and touches on his very early career with "When I Live My Dream" from 1967, with the other songs ranging from the mid-'70s right up to "Dollar Days" from 2016.
Both Bowie and Cion have had high-stakes experiences that came together where it counts. Sex, drugs, and rock & roll had a heavy fourth player in Bowie's story: death. While creating his Blackstar album in collaboration with world-class jazz musicians, he was face-to-face with how his own battle with cancer would end, and when. As Cion has successfully navigated more than one round of oncology treatments, the depth of the connection and the subsequent loss of the beloved Mr. Jones became all the more painful and resonant. Cion memorably says that it touched her that Bowie spent the last year of his life with people who so deeply understand how to listen.
Whether she's talking or singing, Cion is magnetic on stage, and she has a deep and honest story to tell. However, with such a strong musical momentum, the show isn't served by the length of its monologue sections, which take us out of the flow. There's something otherworldly developing in the music, and I wanted to ride that wave instead of hearing the details of how the Bowie magic has evolved for her. She has an endearing, self-effacing sense of humor about what might be an obsessive and lifelong fangirl relationship with Mr. Jones—but she's a sophisticated artist exploring a legitimate influence on her work and identity, and she has earned the right not to have to explain or justify her passion.
Me and Mr. Jones: My Intimate Relationship with David Bowie
Pangea – September 14, 15, October 19, 20, November 16, 17
Category: Reviews