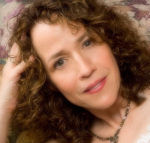 Early in a recent encore performance of her show Kaleidoscope Eyes at Don't Tell Mama, singer Ruth Carlin professed her love for words, for poetry, and for lyrics. It was not a necessary profession because it was evident in her very first song, a version of Lionel Bart's "Who Will Buy?" that was filled with an uncommonly mature sense of longing. Even more impressively, it showed up in her personal take on Prince's "Sometimes It Snows in April," transformed in her hands into a classic cabaret song.
Conversely, I wanted her to loosen up her reverence and understatement on the show's ersatz title song, "Lucy in the Sky with Diamonds" (Lennon & McCartney) because the surreal lyrics and imagery lost their magic in her prosaic delivery. She often seemed trapped in a "poetry reading" energy that brought a sameness to several of her choices. (She did read a few self-penned poems, which, unfortunately, duplicated the message of, and was less effective than, the songs that followed them.)
Songs like Rupert Holmes's "Moonfall" and Craig Carnelia's "Flight" were ill-chosen because of her hesitancy with the technical requirements of the melodies—misguided melismas and wordless passages are not in her wheelhouse. Particularly on these, but frequently throughout the evening, her hands rarely stopped moving. It was distracting and detrimental even to songs that were otherwise more suited to her individual delivery.
Her three forays into lighthearted material were delightful highlights. Perhaps a lack of concern about "art" allowed a more antic, impish style to come to the surface. "Irving" (Gordon Jenkins, Nat Hiken), a bit of specialty material put on the map by Nancy Walker, and Murray Grand's silly standard "April in Fairbanks" provided a welcome change of pace. All of Carlin's obvious strengths came together in "Beyond Compare" (Marshall Barer, David Ross) in a masterful performance that was the standout of the show; her lyric delivery and her intelligence, wit, and heart were given equal time.
The direction by Lina Koutrakos showed her customary taste and style, apart from failing to rein in the physicality I mentioned earlier. The singer could find no better partner in this show than music director Paul Greenwood, whose piano playing was filled with delicacy and feeling. I enjoyed much of Ruth Carlin's show, but I wish she had been less interested in impressing us with the beauty of the lyrics and more interested in living inside them.
Kaleidoscope Eyes
Don't Tell Mama – February 17
Category: Reviews