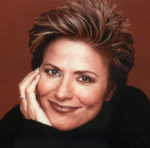 To the best of my knowledge, February 26th is not a holiday, but perhaps it should be. That date marked the return to the New York cabaret stage, after a 20-year absence, of singer Lorna Dallas in a beautifully fashioned, exquisitely performed show called Home Again. With the invaluable assistance of director Barry Kleinbort and music director Christopher Denny, Dallas turned Birdland, the iconic jazz club, into a hushed and intimate cabaret room. This was a show in the rarefied tradition of Mabel Mercer, with the added plus of the singer's glorious soprano. Her most impressive flights of vocal magic were always in service to the stories the lyrics tell, and doubly impressive because of that.
"As If We Never Said Goodbye" (Andrew Lloyd Webber, Don Black) could have been a bit too "on the money" an opening if not for brevity and some witty re-writes by Kleinbort, which led beautifully into Stephen Sondheim's "Back in Business." The Dick Tracy "hit" was given the most satisfying, enjoyable reading I have ever heard—and I have heard many. A shimmering "Summer Me, Winter Me" (Michel Legrand, Marilyn & Alan Bergman) was almost impossibly romantic, filled with passion, warmth and longing. It was a delight to hear her resurrect "Chain of Love" (Claibe Richardson, Kenward Elmslie, from The Grass Harp), managing to make it sound as fresh as if it had been written this morning.
I could literally list every song in the show as a highlight, but let me mention a few that particularly stood out. Kleinbort provided a gorgeous ballad entitled "One More Spring," which the singer completely owned with a sensitivity that was almost painful. An introduction to, or reminder of, the British songwriter Ivor Novello, with the inclusion of three of his songs, provided an entertaining bit of history. After Dallas told us how Tom Snow and Amanda McBroom had written "Timeless Thing" using the words from a note that her husband, Garry Brown, had hidden in her purse, she followed the short, sweet tune with a medley of the couple's favorite songs—"You and I" (Leslie Bricusse, from Goodbye, Mr. Chips) and Irving Berlin's "How Deep Is the Ocean?"—that left nary a dry eye in the house.
That pairing worked beautifully, but elsewhere the show was a bit too medley-heavy. While her performances of the individual songs could not be faulted, occasionally the choices had a truncated feel, when I would have preferred to hear complete, fully developed numbers. But this is a minor reservation in a show that was both touching and thrilling, gentle and electrifying, and that early on moved into the heart, and stayed there. A grateful and deeply felt "welcome back" to Lorna Dallas. May she return to the New York stage soon…and often!
Home Again
Birdland – February 26
Category: Reviews