(Article #1 in a limited series on "Return Engagements.")
John Lloyd Young is ready to boogie on down. (Then again, who isn't?)
The Tony-winning singer-actor, who starred as Frankie Valli of the Four Seasons in both the Broadway and film versions of Jersey Boys, has worked diligently to remain engaged with his career and to stay in touch with his fanbase during the COVID-19 pandemic. It took perseverance and ingenuity. But now, to quote a 1979 disco classic: "enough is enough is enough."
On July 9, in a space in Las Vegas called The Space, Young will join up with members of his band for the first time in more than 15 months for Solid Gold, a live concert/party celebrating the pop sounds of the 1970s. (For those not feeling ready for live performance or unable to make it to Las Vegas, this show will also be streamed live for at-home audiences.)
"I think they're even bringing in a real disco ball for me," Young told me during a phone call from California. "It's just going to be a celebration. Let our hair down. And also—these songs!"
As Valli, Young wowed audiences with his falsetto singing, which he considers one of his "specialties." He believes that some of the best pop music from the '70s was performed by male singers who seemed to have been huffing the helium: groups such as The Stylistics and the Bee Gees. He's looking forward to performing their material in the upcoming show.
Also, Young was born on July 4th, so Solid Gold will simultaneously be a belated birthday bash: "I never had to exert much energy to celebrate my birthday," he jokes, "because it's a celebration no matter what I do—July 4th."
Stayin' Alive
Things were anything but celebratory a year ago. Young had had several singing engagements lined up in March of 2020 when COVID-related lockdowns and other restrictions began. Many planned shows have been "kicked down the road" and rescheduled, he says, including appearances in Manhattan at Feinstein's 54 Below (they are now set for late January 2022). Fortunately, there were very few cases in which venues where Young was scheduled to perform faced the prospect of permanent closure.
Eventually, Young would create livestream concerts, performed without an in-person audience, on the stage of The Space, which is a 3,000-square-foot performance and event venue. But in the initial months of the shut-down, this sort of endeavor was not allowed by the State of Nevada.
With no singing engagements on his calendar, Young turned his attention to the creation of visual art pieces. He had multiple series to work on in his in-home studio in California, including a line of works inspired by Andy Warhol's famous Campbell's soup cans. Work as a visual artist was not something new for Young. It had been an essential part of his pre-pandemic life. During the early part of the crisis, however, he moved his visual artistry to the front burner.
The first permitted live streaming show happened on July 25, 2020—an exercise in making the best of a bad situation. "We had a skeleton crew—everyone masked and distanced," he recalls. "There were about six people in the entire building, including me and my musical director, Tommy Faragher."
Young made adjustments to his performance for the streamed shows—he needed to play to the camera while singing, instead of playing to an assembled crowd. He is, of course, skilled in on-camera performance, but sustaining this effort for a full-length show was something else again.
"And also," he says, "we were under duress then, right? Because everyone was really frightened, and this was something none of us had ever dealt with before."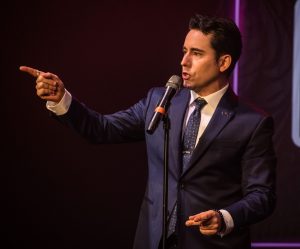 The streaming shows proved to be important occasions for all those involved: "You know, when you're crossing a stream and you go from one stone to the next, to get across the stream? Livestreams, for me and Tommy, and also for the audience, were like touchstones across this COVID stream."
As authorities in Nevada gradually lifted restrictions, more people would congregate at The Space to witness Young's streaming shows in person. In fact, the last of these performances had a pre-pandemic-sized live audience. But until Young had completed his own vaccination series, The Space provided a 25-foot gap between the stage and the audience.
Young worked arduously on the streaming shows. In effect, he was creating a whole new concert with a different setlist every few weeks. He now has about 10 setlists to choose from. In the months to come, he plans to revisit these various programs. In fact, for next year's 54 Below engagement, he plans a game of "Setlist Roulette," in which a different show will be presented each night. "The audience won't know which set they're gonna get," he explains. "We have it all in the bag, so it's just 'spin the wheel,' as they say. 'Roll the dice.'"
You Make Me Feel Brand New
Solid Gold is an important milestone for Young. But it doesn't mark his first return to a show with a capacity audience and fully lifted restrictions. That happened in late June, when he (along with Faragher, but not the full band) appeared at Michael Feinstein's new club at Hotel Carmichael in Carmel, Indiana, near Indianapolis. On the first night of his engagement there, Young found himself confiding to the audience, acknowledging his self-consciousness about being in front of an up-close, capacity crowd for the first time in many months. But that awkwardness quickly evaporated. "The second night," he said, "I felt like we'd never had the pandemic at all."
COVID-19 also "threw a wrench" in the completion of a new studio album Young had been working on in early 2020. Worried about how the shutdowns would affect his income stream, he put the project on hold in the early part of the crisis. But once he began selling some of his art pieces and felt more secure about his finances, he reached out to musicians for the album, who were able to work on the project from their home studios. He and Faragher recently met up to listen to the tracks together in one last round of note-taking. They hope to advance to final mixing, mastering, and packaging of the album once the July 9 show is behind them.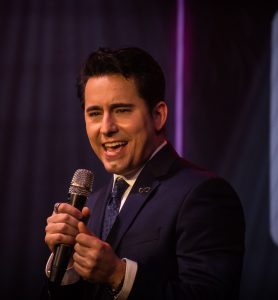 To preserve personal contact with his audience during the prolonged cultural pause, Young included virtual after-parties to go with the streamed shows. He has long prided himself on his post-show meet-and-greets, and he plans a special after-show on July 9, which will include bringing a few individual fans up onto the stage, where he will briefly interview them.
As a private person and introvert, one thing Young initially avoided was having contact with fans in online broadcasts from his home. "You kind of lose the mystique if you're talking to people in front of your dishwasher," he notes. He eventually conducted a few Instagram Live sessions from home, but they were broadcast not from his kitchen but from the art table in his studio.
I ask whether Young would take time during Solid Gold to reflect on how the virus has affected people's lives. He doesn't plan to do so, although he acknowledges that some relatively somber moments might crop up in those after-party fan interviews.
"My intention with this [show] is to have some fun—to stop reliving what we've been through and just enjoy ourselves. So, with this one, I'm probably not going to get too deep. I'm a very soulful singer, so maybe, in some of the songs, that'll come out."
Young says that in the recent Indiana shows, he sensed a new appreciation among listeners for the opportunity to "gather around music again," something they'd taken for granted during their entire pre-pandemic lives. In the eat-drink-and-be-merry spirit of Epicurus, he muses:
"I'm on the younger end of being an older person. We know [life] doesn't last forever. And so, if it's something that we love to do, we're gonna want to do it again. We're going to want to have experiences now, if we can have them. Because you never know when things will end."
*****
**For tickets (in-person and streaming) to Solid Gold, visit www.thespacelv.com
**To keep track of John Lloyd Young's other upcoming shows, visit JohnLloydYoung.com/live
Category: News / Reviews / Commentary