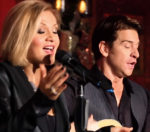 The husband-and-wife team of Orfeh and Andy Karl have teamed up for Legally Bound (directed by Charles Randolph-Wright), in an engagement at Feinstein's/54 Below. Married now for 17 years, the two have made names for themselves in musical theatre and have occasionally appeared together in New York productions, most notably in Broadway's Legally Blonde (2007). Before turning to theatre, Orfeh had an early-1990s touring and recording career as a "'tween pop star" (her words), as half of the duo Or-N-More. Their current show delivers the goods to audiences craving showy, spectacular singing.
As a team, Orfeh and Karl remind me a lot of Sonny and Cher in their early-1970s TV variety show—so much so that I wonder whether they've consciously patterned their comic interplay after that of the earlier pair. Like the hapless Sonny, Karl is the sweet-but-dorky underdog, striving to assert his talent opposite a glamorous, surname-free partner with deep, sultry-yet-booming vocals. In fact, Karl out-underdogs the late Sonny by being downright self-abasing. Repeatedly, after Orfeh leaves the audience enraptured with her formidable vocals, he appears onstage literally waving a white flag. At one point early in the performance I attended, he told the audience, "Speaking of no talent, I'm gonna sing now." How can you keep the dueling-spouses shtick going when one combatant has already surrendered unconditionally to the other?
The song line-up includes mostly solos, with the occasional duet. There are numbers from the couple's respective theatrical outings, along with flamboyantly rendered pop-rock classics. Orfeh serves up most of the latter—notably, her blisteringly belted interpretations of such songs as "Piece of My Heart" (Bert Berns, Jerry Ragovoy) and "Hotel California" (Don Henley, Don Felder, Glenn Frey).
In his solo spots, Karl tends to focus more on his Broadway credentials. Early in the show he delivers Bob Crewe and Bob Gaudio's "Can't Take My Eyes Off You" (featured in Jersey Boys, a show in which he appeared), in an arrangement with a quirky, unexpected rhythm. Later he performs Lynn Ahrens and Stephen Flaherty's "Keep On Standing" from Rocky and "Seeing You" (Tim Minchin), his epiphanic eleventh-hour number from Groundhog Day. The quieter portions of the latter two songs (especially "Seeing You") marked for me the only points at which either of the performers delved very far beneath the shiny surface of the evening's musical material. In the more subdued parts of these numbers, Karl seemed genuinely connected with the sentiments in the songs and keen on sharing that connection with his audience. I wish there had been a couple of quieter ballads elsewhere in the show, providing additional opportunity for the couple to do such delving.
Three guest performers joined Orfeh and Karl at the show I saw. Jillian Mueller and Jennifer Sanchez—both of whom will appear with Orfeh in Broadway's upcoming Pretty Woman: The Musical—each arrived onstage, sang one quick selection, and then departed (Mueller didn't even speak an introductory word during her allotted time). Their appearances might have seemed less perfunctory had the two been given a few moments to banter with Orfeh and/or Karl. The third guest was Andrew Logan, who'd had a career as a pop performer at the same time as Orfeh's. The two post-teens teamed up for "Change the World" (Gordon Kennedy, Tommy Sims, Wayne Kirkpatrick), which contained some pretty sounds and vocal embellishments aplenty.
Logan also contributed background vocals throughout the evening as part of an instrumental and vocal ensemble of seven, led by musical director and pianist Steven Jamail. Jamail performed an especially impressive and fiery riff during "Hotel California." However, he and his band tended to play overloud in the show's opening duet, a complex medley of Motown songs. Their decibel level occasionally swallowed the medley's lyrics, especially those sung by Karl.
I enjoyed much of my time with Legally Bound. And those around me seemed even more enthusiastic. I just wish the performers could find ways to let us hear what they have to say that don't involve turning the volume (and the emotional content of songs) up too far, for too long.
Legally Bound
Feinstein's/54 Below – January 23, 26, 27, 30
Category: Reviews